Rivals in the City by Y.S. Lee
Candlewick Press: March 10, 2015 (Young Adult; Historical Mystery)
I've really enjoyed Lee's Agency series. It's set in Victorian London, has an awesome young heroine, a dash of romance, and always a great mystery. The first three books in the series were great, especially book three (who doesn't love a cameo with Queen Vic?). Having loved the previous books so much, I have to admit to having felt a bit disappointed with Rivals in the City, the final book in the series. The final installment was very mystery heavy and I just didn't find myself in love with this one.
Rivals in the City picks up shortly after the events in The Traitor in the Tunnel. Mary Quinn has left the employ of the Agency and has started a private detective agency with her fiancé, James Easton. However, an old enemy from Mary's very first investigation has returned to London and Mary finds herself pulled into catching the devious criminal.
A lot of my disappointment with Rivals in the City stemmed from the fact that the plot focused on the mystery rather than the richness of the characters. There was so much potential for conflict and depth with these characters. Mary and James' engagement for instance; I would have expected there to be much more conflict between them considering their interactions in the first three books. There was no question of the trust between the two of them it was just there, which left their relationship kind of bland and boring in Rivals in the City. Mary also has a distant relative on her father's side emerge from the woodwork. Again there was so much potential for this to become something more than a cursory nod to Mary's desire to know more about her Chinese heritage. This element to the story just seemed to die out without any real resolution.
Finally, the last element that was unsatisfying here was Mary's capitulation to marry James. I've always liked Mary as a character; she's independent, curious and inventive. Mary has always been a good foil for James and vice versa. While I have no problem that Mary agrees to marry James, I do have a problem with the fact that Mary barely spends any time in agony over making this decision. Mary is finally an independent woman of means. She has her own apartment and is a business owner; marrying James means that she will lose that independence. Personally, I kind of think this is a big deal for a former thief that used to live in extreme poverty. I simply do not buy the fact that Mary would so easily make this decision, and I didn't think it rang true to the Mary that readers were introduced to in the previous books in the series. For me, Rivals in the City would have been a much stronger read had there been more focus on the characters and their internal conflicts. Instead readers are treated to a mystery that pulls threads from the first book, leaving a very anticlimactic ending to what has been an outstanding series.
The Agency series has been a blast and while the final installment was a bit of a disappointment, I can't deny that the series is worth a read. A half-Chinese Victorian young woman acts as a secret agent, um, that is amazing even if I didn't find the final installment to be all that I had hoped it would be.
Similar Reads
For another intrepid young lady investigator try Doctor Death. While this one is not YA, I do think it will translate well for teen readers. What I liked about Doctor Death was the high level of internal exploration of the main character, exactly what I thought was missing in Rivals in the City. See my full review on this one.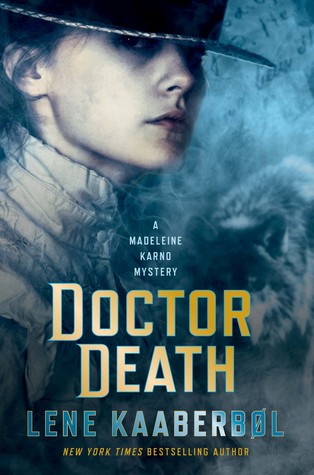 For a more typical teen read, I recommend William Ritter's Jackaby. This historical mystery/fantasy was original and absolutely a delight to read. I think fans of Mary Quinn will appreciate the heroine narrating Jackaby.
For those looking for a little more of a lighter historical mystery, I recommend A Breath of Frost. This one was entertaining and magical and marks the start of what promises to be a fun little series. There is a lot of mystery in this one, but it's evened out with a lovely little romance (for those who were hoping for more from Mary and James).