Of Silk and Steam by Bec McMaster (London Steampunk #5)
Sourcebooks Casablanca: March 3, 2015 (Steampunk Romance)*
Of Silk and Steam is the fifth installment of Bec McMaster's steampunk series. Once again readers are plunged into the intrigue of the Echelon, this time when it's on the brink of revolution. Leo Barrons has been working steadily to eventually usurp the prince regent and it seems that his plans are going to reach fruition much sooner than he would have liked. It doesn't help that he's distracted by Lady Aramina who finally seems to be responding to his years of overtures.
Lady Aramina is one of the only female blue bloods, and she's the only one that sits on the council. Because of her precarious position she has always had to hold herself aloof. Mina has also needed to keep her feelings in check to protect her best friend, the Queen. Secretly, Mina and the Queen have also been plotting against the cruel Prince Regent, having no idea that there were others moving against the Prince. Mina's plan is thrown way off course when Barrons starts dogging her steps and Mina starts to wonder if there is someone that she can actually trust.
I've read all of the previous books in the series and for the most part, I've enjoyed all of them. However, I do think that the first two books in the series were the best. The more readers are moved in the society of the Echelon the more disturbing I find this world. The Echelon and it's conception of relationships is problematic, especially when it comes to the romance.
In the Echelon there aren't many marriages. Instead the blue blooded males make thrall contracts with the eligible women of the ton. These contracts allow the holder of the contract to have access to the thrall's blood; the thrall then has the choice whether or not to include their "flesh rights" into the bargain. The concept of these types of relationships is very cold and unemotional. What I find troublesome is that each hero and heroine of each book apparently come from this world and then come to conceptualize of relationships in a very different way by the end of their respective book. It's hard to reconcile that the heroes and heroines of these book come from his cold world. Barrons himself has two thralls, whom he lets out of their contract when he decides to pursue Mina. I can't wrap my head around a hero who actually owns people. Yeah, I get it, he needs the blood to live, but I'm still uncomfortable with the notion that a hero I'm reading about has slaves.
What I also find troubling about the idea of these thrall contracts is due to the introduction of Mina. She may be one of the only female blue bloods, but she doesn't own any thralls, or at least, they were not mentioned. I'm puzzled by this. What does it mean? Is Mina supposed to be better than Barrons or is it simply less acceptable for a woman to have thralls? This gender issue is something that I wish would have been addressed further here.
While I did have some reservations about the world, the action-packed pacing in Of Silk and Steam is what kept me reading. I liked the fact that there was a lot of action in the book. At the same time, the action also meant that there was less time for Leo and Mina to interact with one another in a really emotional way. Yes, there was a lot of chemistry between these two, but I thought the emotional connection between them could have come a bit sooner, which is simply my preference.
Do I want more of this series? I'd give a tentative yes. Personally, I'm a little tired of the high society of the Echelon and I'd really like to see the story more in another direction. Books one and two both ventured into the lower society of Whitechapel and I'd like to see a return to that. I do feel invested in learning more about specific characters, namely Leo's half-brother Charlie, so I'd likely tune in if that story arrived. I don't want to give up on the series, but I do feel uncomfortable with some of the world building, which makes me reconsider how much I have enjoyed these books in the past.
*Review copy provided by the publisher via NetGalley.
Similar Reads
For another steampunk read that also makes use of the "enemies to lovers" trope, give Kristen Callihan's Evernight a try. This one is just as action packed as Of Silk and Steam, but there are some great lighthearted and wonderfully emotional moments in this one. See my full review of Evernight.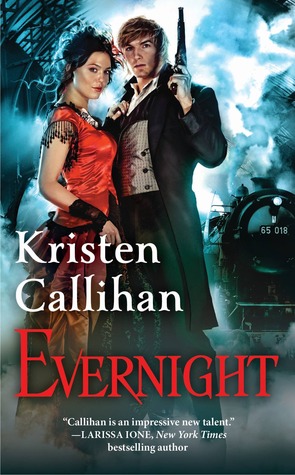 While Pride and Passion isn't a steampunk romance, this is another one that will appeal to fans of the "enemies to lovers" trope. The tension between the hero and heroine is very similar to that which is between Mina and Leo.
My last steampunk recommendation is Kady Cross' Touch of Steel. It's a good choice if you liked the action-packed pacing of Of Silk and Steam and once again features the "enemies to lovers trope".