The Diabolical Miss Hyde by Viola Carr
Harper Voyage: February 10, 2015 (Steampunk)*
The Diabolical Miss Hyde is the first in a steampunk series, and it's a debut that I'm not at all certain about. I really liked the atmosphere and the extension of the Doctor Jekyll and Mr. Hyde text, but there were a couple of things that I had issues with.
Dr. Eliza Jekyll is the daughter of the famous Doctor Jekyll. Her father has since died and Eliza has also set herself up as a doctor. At present she works with the police as it's difficult for a woman to find and retain patients in Victorian England. However, Eliza has one very large secret. Like her father, Eliza also has an alter ego, her's is Lizzie Hyde.
Lizzie Hyde is everything that Eliza is not. She's not proper or worried about appearances. When she gets free of Eliza she makes the most of her freedom with a night on the town. However, when Eliza finds herself at risk during an investigation, it's Lizzie that she just might have to rely on to help her. If only she didn't have to worry about being under investigation herself. For the most part I really liked the concept of The Diabolical Miss Hyde. I'm a sucker for the Victorian setting and it hooked me right in from the first. I also thought the writing was pretty darn good. The author committed to the theme and tone and stuck with it, creating an excellent atmosphere.
I also liked the contrast between Eliza and Lizzie. They are both very extreme characters. Eliza's the typical "good girl" and Lizzie the "bad" one. However, it soon becomes clear that both of these women have their quirks and are more than "good" or "bad". What I liked most about these separate characters is the fact that they were impossibly linked, and I found it interesting that it was Lizzie, the impulsive and emotional one, that became more accepting of the fact that they are both trapped in an impossible relationship. In fact, it's Lizzie that finds herself feeling very protective of Eliza.
As much as I was interesting in the idea of Eliza and Lizzie sharing one body, it's also the aspect that most troubled me when I was reading The Diabolical Miss Hyde. I just can't seem to wrap my head around the fact that these two women switch existences. When Lizzie Hyde is in control anything she does (i.e. drinking, fighting, sleeping around) never impacts Eliza. It seems so strange to have these two women essentially be two different characters inhabiting one body. I can't exactly see this playing out well in the long run, especially in terms of the romance plot.
The romance in this one was so strange, considering that Eliza and Lizzie are really two different people, and because of that they both have very different ideas of what they want. Or do they? In all honesty, I can't imagine a romance is going to work out for either of these ladies considering their bodies and personalities can change against their will. That said, I am immensely curious to see how the author is going to wrap up the romantic thread in this series. Are Eliza and Lizzie going to become a whole? Or is romance out of the cards for both of them considering their little personality conflict? As much as I think the romance was really, well, weird here, I do think I'll be back for book two because I can't imagine that anything will ever work out for these ladies. I'm curious as to what direction the author is going to take this.
Ultimately, I think the Eliza/Lizzie character is very problematic to the storyline, but I am cautiously intrigued by the book. It is the first book in a series so I don't expect all my questions to be answered, if they were, I wouldn't need to read book two. I'm not convinced that Eliza or Lizzie can have a happily ever after, but then, I don't suppose that's required either. At any rate I'm puzzled and curious enough to want to read book two.
*Review copy provided by the publisher via Edelweiss.
Similar Reads 
For a YA retelling of Doctor Jekyll and Mr. Hyde check out Kady Cross' Steampunk Chronicles series. It's heroine is also the daughter of Doctor Jekyll but the characterization of this dual personality is much less problematic. The focus also shifts from a reworking of the classic text in the later books. It's quite a fun series! Start with the first book, The Girl in the Steel Corset.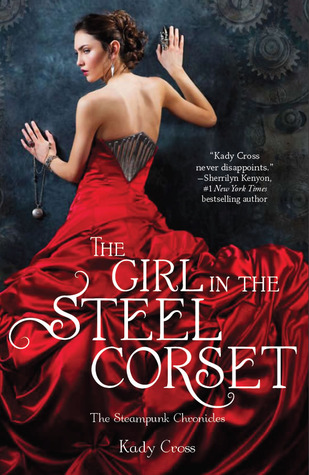 If you liked the atmosphere and the strange dynamics between the main characters (including the strange romance triangles? Squares?) try Karen Kincy's Shadows of Asphodel. It's set in an alternative WWI and the heroine is one complicated young lady. There's no multiple personalities, but the tone reminded me of The Diabolical Miss Hyde.
Lastly, if you liked the romance element to The Diabolical Miss Hyde but were disappointed by the lack of resolution, I recommend giving Gilded Hearts a try. It's another steampunk mystery, but the romance does take centre stage.