The Eterna Files by Leanna Renee Hieber
Tor: February 3, 2014 (Steampunk)*
The view was nice, but the food was bad
Jaclyn's Review
I really liked the idea behind The Eterna Files. Secret government organization in Victorian England? Yes, please! Unfortunately, this one missed the mark for me. Some of the characters were interesting, but I never felt that I spent enough time with them to truly get invested in their stories.
Harold Spire has been appointed by Queen Victoria to Special Branch Division Omega, and he's not happy about it. Spire had been in the midst of a very difficult case and he doesn't want to let it go unsolved to lead a secret branch of the government that's bent on investigation the extraordinary. He does not believe in that sort of thing. Spire's first order of business is to investigate the supposed discovery of the Eterna Compound. Apparently it grants immortality, and if the Americans have it, the British definitely want to get their hands on it.
Assisting Spire is the highly capable Rose Everhart, who, like Spire, has a tragic past motivating her actions as a government employee.
Rounding out these perspectives is American, Clara Templeton, the person responsible for the Eterna Compound, or at least putting the idea into the head of the grieving Mrs. Abraham Lincoln after the assassination of her husband. After the deaths of the scientists who were working on the Eterna Compound, Clara is determined to find out what happened and keep the compound from the wrong hands.
The premise for The Eterna Files sounds really good, but what didn't capture my attention was the narrative style. First off, the characters came across as rather bland. Tidbits of information about each character would be dropped but never fully explored. Second, I found the change in perspective of characters (and locales) to be rather distracting. When things were finally getting good, the novel would move to America or England. What's more is that the American and English narratives didn't come together by the end of the novel and I kind of assumed that they would. I can only presume that the author is setting this up to become a series.
I really wanted The Eterna Files to be amazing, but I really had a hard time getting through this one. I think it's one of those books that's going to appeal to readers who are more interested in details than characters or plot, and I am, quite simply, not one of those readers.
Stacey's Review
Ghost stories with Victorian seances, clairvoyants, and mediums are not my usual fare. Like Jaclyn, I had trouble getting through this one. Eterna opens on a very intriguing premise, with a strange, unbelievable situation (Clara hugs grief-crazy Mrs. Lincoln and sends her a message from the late President Lincoln, which sets off the search for immortality). Yet, this energy is not maintained, and most of the novel plodded along at a snail's pace, with too many descriptions and not enough action or suspense.
At times, I became interested in Clara's story, especially her relationship with her guardian, Senator Bishop. There were some intriguing hints that the relationship had depths not visible to society, which exceeded their connection as foster father and foster daughter. Otherwise, I agree with Jaclyn, the characters felt bland. There were glimpses here and there that sparked a tiny bit of interest, which would then be buried under descriptive passages and thoughtful meanderings.
Without giving anything away, what was with the ending? I feel like I should be upset, with the way it just runs and jumps of the cliff, leaving the reader hanging onto the edge. But honestly, the story meant so little to me that it didn't matter.
*Review copy provided by the publisher via NetGalley.
Similar Reads
The similarity in premise of The Eterna Files to Pip Ballantine and Tee Morris' Ministry of Peculiar Occurrences is what initially drew me towards the book. The Ministry series is definitely for readers that are looking for more developed characters who are just as important as the plot of the book. Start with the first book in the series, Phoenix Rising.
This book and the second time travel book by Connie Willis, To Say Nothing of the Dog, have 19th-20th century English society, the pursuit of ghosts, and seances in common. While it is an entirely different story, built on witty banter and a series of comedic errors, as well as foolish and quirky characters, it is highly entertaining and certainly more interesting than The Eterna Files.
If you, unlike us, really liked The Eterna Files, then I think I can safely recommend Beth Cato's The Clockwork Dagger. I didn't love Clockwork Dagger, but I did get a similar vibe to The Eterna Files with the author's style of writing.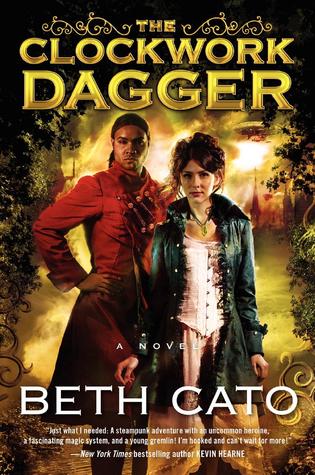 Were you intrigued by the relationship between Clara and Senator Bishop? If you also like historical romantic fiction, These Old Shades by Georgette Heyer is a delightfully witty, wry tale of an older, clever aristocrat who aids a cunning and innocent young Parisian street thief.
Did you applaud both Clara's and Rose's independence and determination for a place in society that was not solely defined by their sex? You might also enjoy The Bullet-Catcher's Daughter, a tale about a young woman who masquerades as her brother, a private detective, in a most unique alternate England.