Death Comes to London by Catherine Lloyd (A Kurland St. Mary Mystery)
Kensington Books: November 25th, 2014 (Historical Mystery)*
In the second installment of the Kurland St. Mary Mysteries, Lucy unexpectedly meets up with Major Kurland in London. She has gone with her neighbor and her sister, so she and her sister can have a Season. Kurland is there waiting on the Prince of Wales to formally bestow on him the honor of becoming a Baron. At one of the many balls of the Season, a wretched old lady is murdered, and two of her grandsons fall ill. One of the grandsons is an old friend of Major Kurland's, so of course he involves himself in the investigation. And where there's an investigation involving Major Kurland, Lucy will be fighting for equal partnership in discovering clues. This time, they suspect poison.
The London Season is a pale backdrop behind the murder mystery that takes center stage. In fact, one of the weaknesses of this story is that the murder investigation and society manners do not fit well together. Kurland and Lucy, who were basically free to get cozy and discuss murderous developments on their own, without chaperonage, in the village, start up the same sort of relationship in the busy society of London. Yet, aside from everyone close to them rolling their eyes and looking askance, there is no real sense that the way the two of them stick to each other in any and all company is uncommon and not quite the thing. While I'm not an expert on the period, it did seem strange that they could so obviously prefer their own company without more censure from society.
On their relationship, nothing further really develops. Lucy seems to actually believe that they are just partners in investigation, even though she's given hints that their may be something more. In some novels, it's obvious that a character is just denying her feelings, but in this one, it's hard to believe she has any. Kurland, on the other hand, does seem to be a bit in denial. The pacing of the romantic subplot does pick up substantially at the denouement, so I suspect that the romantic arc of third installment in the series will prove more reliable (and honestly, if it drags on through another whole novel, I may not read it).
As for the mystery itself, it had enough twists and suspenseful moments to be interesting, but for me, it felt a little wild. What starts out as a simple potential poisoning becomes much more complex by the time Lucy and Kurland figure out what happened. Not all seemingly good people are good, and not all seemingly bad people are bad, which always adds interest to a story. I particularly enjoyed Lucy's insistence that her suspicions were valid, even if she developed them by gathering information passed on through gossip.
Overall, I enjoyed this story. While there's nothing too remarkable about it, it was fun. I like Lucy and Kurland enough to want to find out how their relationship develops. The mysteries in these first two books have been entertaining and suspenseful enough that I would definitely read another mystery by this author. I do hope that the romantic arc plays a larger role in the next book, now that it has been set up so definitively by this one. If you're looking for a historical mystery-romance, this really isn't it. If you're looking for a historical mystery, you will find that here.
Similar Reads
Vicki Bliss and the mysterious thief John make for an entertaining pair of amateur sleuths – if you take your romantic mysteries in any time period, you may like this series, full of romantic, travel, and investigative capers. Start with Borrower of the Night.
With an exotic setting, lots of witty and silly humor, and a truly engaging sleuth, Lindsay Davis' Marcus Didius Falco series, is one of my favorite historical mystery series. The Silver Pigs is the first book.
Sebastian St. Cyr, with his unusual abilities and romantic entanglements, is another favorite sleuth. This series is set in a really believable Regency England. What Angels Fear begins the series.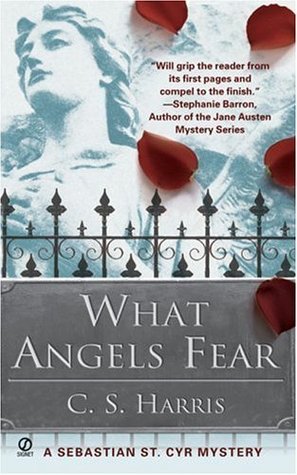 Finally, for another female investigator in historical England (this time Victorian), I recommend Lady Julia, recently widowed and reluctantly drawn into an investigation of her husband's murder. Start with Silent in the Grave.
*Review copy provided through Goodreads giveaway