Murder at the Brightwell by Ashley Weaver
Minotaur Book: October 14, 2014 (Historical Mystery)
My rating: I'd go there again!
Murder at the Brightwell was a positively delightful start to a new mystery series. The opulent setting and the inquisitive heroine made this a pleasure to read and I will absolutely be tuning in for book two.
Amory Ames has been invited to the seaside resort, Brightwell, by her former fiance, Gil. Amory had broken off her engagement to Gil five years ago when she met and married her husband, Milo. The past five years have not gone smoothly, leaving Amory with the feeling that she may have made the wrong choice in selecting a husband.
Gil has not invited Amory to start an affair, instead he's hoping that Amory will be able to dissuade his sister, Evangeline from making the same mistake Amory made. But it seems Amory's assistance is not needed in that capacity as the day after she arrives, Evangeline's fiance is murdered and Gil is the prime suspect.
Feeling that she has contributed to the inspector's confidence that Gil is the murderer, Amory starts her own investigation, only to be interrupted by her estranged husband. Milo's sudden appearance only serves to confuse her and her opinion on the state of their marriage, a murder investigation is just what she needs to take her mind off their confusing relationship. I loved Murder at the Brightwell. This is exactly the kind of mystery that I like. It's light and character driven, and has the bonus of being set in 1932 England. The setting was the very first thing that I noticed about this one, it really stood out in the descriptions of the English seaside. The author also created a fabulous sense of opulence that will be sure to appeal to Downton Abbey fans with the description of the ritzy hotel and the lifestyle of the characters. Readers were always treated to the style of dress of it's well dressed heroine, Amory, and she was always dressed to the nines as evidenced by her first night dining at the Brightwell:
I wore a fitted gown of mauve silk with sheer flutter sleeves and flowing tulle panels inset into the skirt, the cut quite flattering to my thin, tallish frame, if I may say so myself (p. 34).
Normally, I would say that I don't like an over abundance of description regarding characters clothes, but here I really felt that it went a long way to set the scene. Amory was rich and her wardrobe showed it. Her interest in her clothing was simply a part of her character and I thought it worked to advantage in the novel. That's not say that Amory was a shallow character only interested in her dress. In fact, Amory was an extremely loyal character willing to go to great lengths to help her friend.
I also really liked that Amory's marriage played such a large part of the novel. Amory was obviously deeply unhappy and lonely in her marriage. Her husband is aloof and not often serious, and most of the time he's not even present being away on the continent getting up to no good. Personally, I'm convinced that Milo is a spy because, folks, that traveling and his seeming devotion to Amory do not add up. Something is not what it seems and I am convinced that Milo is engaged in espionage (I hope I'm right!). I'm interested to find out more about Milo in subsequent books because the Ames marriage is not on secure ground at the end of Murder at the Brightwell. The marriage has been patched, but Amory's issues with her husband have not been resolved.
Ultimately, it is the characters that I adored in this book. On the surface Amory Ames appears a shallow and superficial character, but she's clearly anything but once you get into her narration. Throw in her complicated marriage to a man of much mystery, and I am sufficiently intrigued. I'm officially anxiously awaiting book two, Death Wears a Mask.
Similar Reads
If you liked the first person narrative style of Murder at the Brighwell, I think Anna Lee Huber's The Anatomist's Wife is an excellent choice as a follow up. It's also a character driven historical mystery and I think readers will be pleased with the tone as well as a the drama that sounds is amateur sleuth, Lady Keira Darby.
For another historically atmospheric mystery series, try C.S. Harris' Sebastian St. Cyr series. It much more serious and gritty than Murder at Brightwell, but it's hero is a fascinating character. If you were intrigued by Amory's mysterious husband, you'll enjoy learning about Sebastian, who also has an air of mystery about him. Start with book one, What Angels Fear.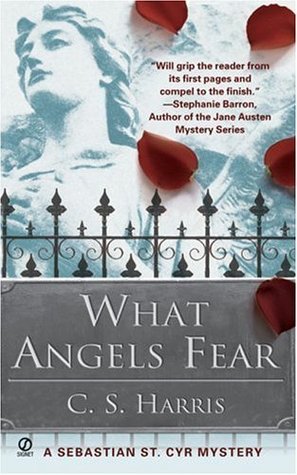 Lastly, I think readers might also be interested in Ann Granger's The Companion, also the start of historical mystery. Like Murder at the Brightwell, The Companion has a heightened sense of place, which struck me from the first. Be warned though, the characters here are not as strong; it's a classic British mystery.