The Witches of Echo Park, by Amber Benson.
Published January 6th, 2015 by Berkley Publishing (Urban Fantasy)*
My rating:
Per my 2015 reading resolution, I read 100 pages of this book – but by the time I got there, the action still had not really started, I felt nothing for any of the characters, and the world and magic rules didn't make much sense. By the end of the first chapter following page 100, I had reason to finish this book. Flashbacks and descriptive passages, along with unlikeable characters and inconsistent characterizations, left me with a feeling of relief when I finally put it down.
Lyse, an orphan raised by her great aunt Eleonora, returns to LA when she discovers Eleonora has cancer – and only months to live. Eleonora is glad to have Lyse back, mostly because Lyse is needed to take over the coven that Eleonora leads. There are witches in Echo Park (you guessed that, right?) and Eleonora is the Head Witch. There is some Great Evil preparing to descend on the world, and Lyse is Our Only Hope to defeat it. Trouble is, she doesn't know magic exists. Or, more specifically, that her great-aunt is a witch.
Most of the first 100 pages describe Lyse's background, and Eleonora's need for a replacement in the coven. In a few small snippets, Lyse re-familiarizes herself with the neighborhood where she grew up, as Eleonora arranges for Lyse's magical induction. Mostly, there are flashbacks that describe Eleonora's background and the weird things that Lyse remembers from her childhood – none of which seem to add to any whole picture of the world and the rules of magic.
Lyse and Eleonora are supposed to have a really close relationship, two loners finding solace in each others' company… but the feeling I got from the descriptions was that Eleonora really only wanted Lyse back to introduce her to the magic Lyse knows nothing about (why protect her from it, if Eleonora knew Lyse needed to become a witch eventually?). Eleonora protests when Lyse confronts her about having ulterior motives, but Eleonora does seem to spend all her time worrying about and preparing for Lyse's introduction to the coven and to magic. Further, at one point Eleonora is described as needing Lyse to make her own choice about entering the coven, but subsequently guilt-trips and tricks her into attending the ceremony. There was such inconsistency between how characters were described as feeling, and how they acted. The guilt-tripping and manipulation endeared neither character to me, and made it difficult to dredge up interest in what happens to them.
As for the world-building and rules of magic, they never meshed with the background world (our own world), leaving a gap between the magical modern LA and the real modern LA. The magic felt unreal and forced onto our world, and really implausible. The only descriptions we have of the magic are some parlor tricks and clairvoyance, and unsubtle hints about Lyse's Destiny.
The pacing was so slow that by the 100th page, Lyse was still unaware of her great-aunt's magical abilities, and she still had not been introduced to the coven.
Ultimately, this book felt disjointed, inconsistent, and unconvincing, and I was happy to put it down.
*Review copy provided by the publisher via Edelweiss.
Better Reads
If you're looking for modern witch stories, try these:
A Discovery of Witches is one of those trendy novels that includes most of the "goes bump in the night" creatures: witches, vampires, and shapeshifters. I loved this one. And bonus! If you get to the second novel, there's time travel back to 16th century England, which just wins.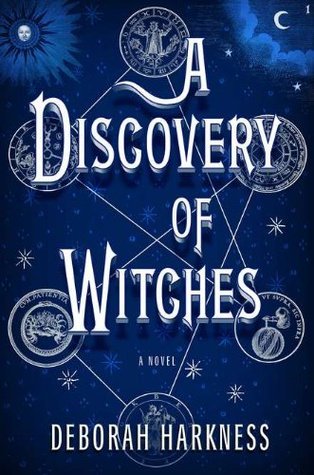 The Physick Book of Deliverance Dane also has a slower pace, and it's not slow because nothing happens – it's a slow burn as the mystery evolves. Focused more on the past but set in the present, it is about a young woman who discovers her family's past is more unusual that most in Salem, Massachusetts.