Say Yes to the Marquess by Tess Dare (Castles Ever After #2)
Avon: December 30, 2014 (Historical Romance)*
My rating: I'd go there again!
Clio Whitmore has been waiting eight years for her fiance to set a date and marry her. Committed to his career, the Marquess of Granville has put off marriage. Well, Clio refuses to wait any longer, it's not as if she really knows the man after all, let alone loves him. And thanks to a generous uncle, Clio now has a castle and consequently the ability to live independently. Unfortunately, Granville's brother, a prizefighter refuses to let that happen; he'll even plan the wedding himself if he has to.
Rafe Brandon is planning a comeback after suffering a brutal defeat in the ring. He doesn't have time for distractions, but he can't deny that he's always enjoyed ruffling Clio's feathers. Despite his unfortunate attraction, Rafe is determined to get Clio to the alter; he doesn't need his brother haring off for another eight years leaving Rafe with all the responsibility. Naturally, Rafe's plans are rebuffed by Clio and they are truly complicated when Clio starts to feel something for Rafe, something he had not counted on. Seems that prizefighting training is just going to have to wait.
Say Yes to the Marquess was exactly the kind of historical romance that I've come to expect from Tessa Dare. It was funny, romantic; a brilliant piece of escapism featuring two seemingly mismatched characters. Clio was prim and proper and Rafe was anything but.  The beauty of Say Yes to the Marquess is the fact that Dare makes readers believe that these two mismatched people are in actuality each other's perfect match.
What I think works to the romance's advantage in Say Yes to the Marquess is the fact that the hero and heroine knew each other as children (she was engaged to Rafe's brother since she was seventeen). There's a history between the pair that I felt worked to strengthen the romance element, allowing for readers to really believe that a happily ever after was possible between these two. They had attraction right off the bat, but Dare forces readers to realize that there is much more to Clio and Rafe's relationship than base attraction. In all of the novels that I've read by Dare, creating a realistic and believable romance in outrageous and funny situations is one of her strengths. Say Yes to the Marquess is no exception to my thoughts.
Say Yes to the Marquess is also the second in Dare's Castles Ever After series. I loved book one, Romancing the Duke, I think even more than Say Yes to the Marquess (it's hard to compete with a story where the hero describes the heroine's hair as an octopus). What I found interesting with Say Yes to the Marquess was the fact that it was not really connected with Romancing the Duke. There were no connecting characters; rather, the connection was based on the fact that both heroines inherited castles. I will admit that I was a touch disappointed that there was not a stronger connection between the books, especially since I would have enjoyed a cameo appearance by Izzy and Ransom. That said, this does mean that a new reader can pluck this one off the shelf and just dive in without the need to catch up to speed.
Ultimately, Say Yes to the Marquess is another wonderful book from Dare. Personally, I don't even think I need to review it, the book speaks for itself, which is why it should be read. This one is a perfect choice for a reader looking for a quirky romance with unexpected depth. It has it's silly moments (thank goodness) but that doesn't come at the expense of a well plotted romance. As usual, I highly recommend Dare and I don't see that changing any time soon.
*Review copy provided by the publisher via Edelweiss.
Similar Reads
For another funny read with mismatched characters, give Elizabeth Boyle's The Viscount Who Lived Down the Lane a try. It doesn't have the unexpected depth of Say Yes to the Marquess, but it's fun read featuring another gruff hero that is completely bowled over by his heroine. See my full thoughts on this one.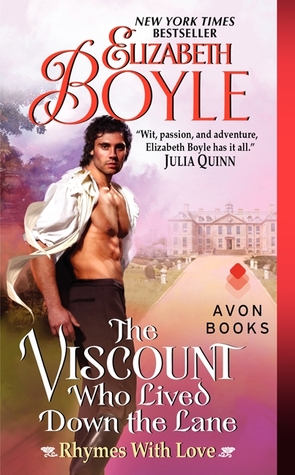 Julia Quinn is an author whose writing I find very similar to Dare's. Both are extremely witty, although I think Dare's romances are more on the steamy side. To date, Quinn's The Sum of All Kisses happens to be one of my favourite's by Quinn and I think it will appeal to fans of Say Yes to the Marquess because it also features a combative couple. See my full thoughts on this fabulous romance.
Lastly, I have to recommend another title of Tessa Dare's. A Lady by Midnight is similar to Say Yes to the Marquess in that it's hero is rough around the edges just as Rafe is. The romance is also wonderfully emotional; a great combo with it's lighter moments. If you haven't read this one yet, I'd add it to your to-read pile.