Arcana by Jessica Leake
Talos: November 18, 2014 (Fantasy; Historical Fiction; Young Adult)*
My rating: Beach vacation (3/5)
Arcana is a historical fantasy set in Edwardian London. Katherine Sinclair has always been an unconventional young lady, but when she presses her luck one time too many, her father decides it's time for her to make her societal debut. At eighteen, Katherine chafes at the restrictions placed on her by virtue of her sex and station. And if these restrictions weren't enough, Katherine also struggles with the necessity to keep her magical abilities secret. Only her family knows her true abilities, and keeping them hidden during the season, just might be more than she can manage. Being branded as a witch is no way to win a husband.
Smoothing Katherine's way into society is the notorious Earl of Thornewood, a reputed rake, with a lot of social pull. The Earl both infuriates and enthralls Katherine. But the question is whether or not she can trust him with her secret ability (he's hot, and she just might want to marry him). Katherine has been warned by her late mother to beware potential suitors. She will meet two, and only one of them will be what they appear. Soon enough Katherine is thrust into society and is pulled between two very different men. With the Earl, Katherine is leery of his reputation, but the man that her grandmother is pushing her towards just might be the greater danger. Add in a jealous debutant and Katherine's season is not quite as dull as she might have expected.
Arcana was an interesting book and not really what I was expecting. On the one hand, it had a strong fantasy element to it. Katherine's mother is from an alternative world where these abilities that harness the power of the light are commonplace. In England, Katherine has to make sure that she always keeps her powers under wraps, but at the same time she cannot help but use them, especially if it means helping someone in danger.
The other strong element in Arcana is the historical component. The setting is opulent and there's no question that Katherine is a daughter of privilege and restricted by this status as well. I liked the historical setting and I was often reminded of the historical romance genre. In fact, I would say that I liked the historical element more than I liked the fantasy. Personally, I found the fantasy element to be a little heavy handed. The alternate world and Katherine's powers were not fully fleshed out, in my opinion. I don't feel that I have a good grasp on the reason behind the magical powers, they just seemed to exist for the sake of the plot. Ultimately, I thought the fantasy element could have been better integrated into the plot, but perhaps it's the author's way of opening up to a series. I have no idea if this will be a series, so don't take my word for it, I certainly see the potential for a series.
I also thought that the villains and the conflict was a little predictable and simplistic. The warnings from Katherine's mother via a magical journal were unnecessary when it was very clear from the beginning just who the villain was. It was Katherine that didn't seem to have any clue who to trust, not readers.
Lastly, I'll also mention the romance. If you're worried about the love-triangle possibility, don't be. It's very clear early on just who Katherine is going to end up with (or who she would prefer to end up with), and don't worry it's not the villain. There's nothing remarkable about Katherine's relationship with the Earl, he's mysterious and brooding and Katherine is conflict and convinced that no man will want her after learning of her powers. What I did like about the romance was the banter between Katherine and Thornewood as it was rather amusing. Katherine was never afraid to give the Earl some attitude, and predictably, her lack of simpering intrigues the jaded lord. It may not be original, but it works, and it works well in Arcana.
Arcana was an interesting teen read, and for the most part I enjoyed it. I loved the historical setting and the opulence of Katherine's class. There is no question that I'm a historical romance fan, so that part of this novel really appealed to me. Even the predictable nature of the plot was okay; sometimes it's comforting not to have surprises in your reading. The weakest part of this book was the fantastical element. I would have liked to have seen this better explained and used a something other than a means for Katherine to stand out among the bland debutantes.
Would I read another by this author? Yes. I did like the writing, and I liked Katherine's family. It would be interesting if the author focuses on Katherine's other siblings in another books, and if the fantasy elements were further explored, I think there is a potential for future novels to be stronger and more complex than Arcana.
*Review copy provided by the publisher via Edelweiss.
Similar Reads
A little more action-packed than Arcana, Alyxandra Harvey's A Breath of Frost is another young adult historical fantasy. It's got a little bit of everything: action, romance, mystery, danger, intrigue etc. It's definetly a fun read, and I think fans of Arcana will appreciate the combination of the upper society with the magical world. It is also the first in a series, Whisper the Dead came out at the beginning of October, and I have been waiting patiently for my library's copy.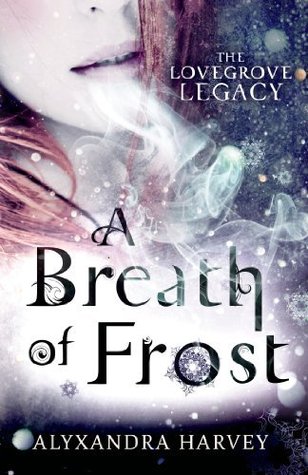 While Shades of Milk and Honey is an adult novel, it's not only suitable for teens, it's also somewhat similar in tone to Arcana. It's another historical fantasy and I think fans of the mystery element of Arcana will enjoy Milk and Honey, especially since I it is also a bit predictable. See my full review.