Only Enchanting by Mary Balogh (Survivors' Club #4)
Signet: October 28, 2014 (Historical Romance)*
My rating: Outstanding Adventure (5/5)
Only Enchanting is the fourth installment in Mary Balogh's amazing Survivor's Club series. Each time I finish one of Balogh's historical, I close the book thinking damn this woman can write. Balogh stands out in the historical romance genre in that she creates such fully realized characters that are often imperfect, and deeply emotional. What I like about Balogh's romances is that I find them wholly realistic. The hero and heroine are capable of petty thoughts towards each other, and can be spiteful in their anger, but each time I read these scenes they never come off as a token nod to resistance to romance; rather, I can imagine anyone in a relationship thinking these things. Balogh's romances tend to be subdued, but it's the relationships that she creates that continually stand out in her novels. Only Enchanting is no exception.
Mrs. Agnes Keeting is a widow at twenty-six. She wasn't in love with her husband, who died three years ago, but she misses that contentment. Since coming to live with her older sister, she has found happiness, but she is rocked back on her heels when she meets Flavian, Viscount Ponsonby, when he visits his friend Viscount Darleigh. She has no idea what to do with these new found feelings that she's never experienced before; she does not want to feel this out of control. But, Agnes is tempted to take a risk and is convinced by Flavian to marry him.
For his part, Flavian is attracted to Agnes. He does not love Agnes, but he wants to marry her to "be safe." It's an odd thing to characterize this as a motivation to marry, and Flavian himself is not sure what he means by it. On the surface, he wants to avoid the matchmaking schemes of his mother and his former fiancé, Lady Hazeltine, and by marrying Agnes he escapes a marriage he does not want and gets revenge on the woman that jilted him when he came back wounded from the war. However, Flavian's emotions go much deeper than this. In the war he was shot in the head and it has taken a long time for him to recover, he still cannot speak without a stutter and there are huge gaps in his memory. He's not happy and often feels angry, but with Agnes he does feel different and he wants to continue feeling that way, that feeling of safety, and the only want to do that is through marriage.
This somewhat hasty marriage has promise, at least until Agnes learns that the husband she loves has apparently married her to revenge himself on his former fiancé. Hurt, Agnes and Flavian have to deepen the foundation of their relationship if there's any hope of their marriage surviving.
Only Enchanting is an extremely touching romance. As usual with Balogh, her narrative arc goes beyond the couple "getting together" and explores what happens after the happily-ever-after, something that intrigues me as an avid romance reader. Only Enchanting is more than the build up to two people finally recognizing their feelings for one another, it's a depiction of their relationship, along with all the struggles and feelings that come up along the way. One particular example of this, is when Flavian admits to feeling somewhat resentful towards Agnes:
 Suddenly, and quite unfairly, he resented her. And this place and the change of venue this year. Nothing like this ever happened at Penderris  (p. 111).
I don't think these types of emotions are often acknowledged in enough romances. It seems obvious the people are going to have these fleeting emotions in relationships, and I love that it is acknowledged here, and in many of Balogh's other romances. I think Flavian's fleeting resentment is unheroic, but it's utterly understandable.
I also love Agnes as a character. She was strong and vulnerable, and refreshingly un-dramatic. When she first learns about Flavian's revenge she is furious and lashes out:
"I do not ever know who you are," she said.
"But you knew I was s-somebody," he said. "Somebody you w-wanted to know. Somebody you wanted to spend a l-lifetime getting to know. It was not just lust."
"More fool me, then," she said. "There was nobody worth knowing inside that beautiful body after all, was there?" (p. 269)
Her anger is justified, but what I love is that she also moves beyond her anger; she has more complex emotions. Agnes wants to move past Flavian's betrayal, and she wants to make their marriage work:
One more week. To piece together a marriage. Or to bring it to an end in a lifelong separation. But the sense of defeat in that last thought filled her with sudden anger.
She would be…Oh, what was the very worst word she could think of? She would be damned before she would give up her marriage after two weeks just because Flavian had once loved a beautiful woman who had chosen spite over stoical dignity when he had married her. She would be…Well, she would be double damned.
So there!
He wanted to give their marriage a chance.
Well, then. So did she. More than a chance. She was going to make a marriage of what they had. See if she didn't (p. 279).
Again, I can't help but feel that this makes Only Enchanting something more in the romance genre. Steam is not coming off the pages, but I felt there was something more important going on here than your run of the mill romance (which I also adore). Balgoh's formula for a romance depends on her characters having maturity and consideration, and Agnes' willingness to move forward from betrayal show this.
Ultimately, Only Enchanting is an absolutely wonderful read, and I argue that is a read that those outside the romance genre would also be interested in. Any reader that is driven to more emotional reads will enjoy Only Enchanting. It's more than a basic happily ever after, it's what comes next. And I cannot wait to see what's next in this series.
*Review copy provided by the publisher via NetGalley.
Similar Reads
I don't always love Grace Burrowes' historicals, but if you like the emotional quality of Balogh's writings, you will be sure to like Burrowes. My particular recommendation is The Traitor since it features another man that is suffering the affects of war. Like Only Enchanting, The Traitor is another emotional read about a relationship rather than the lead up to one. It was lovely. See my full, gushing review of it.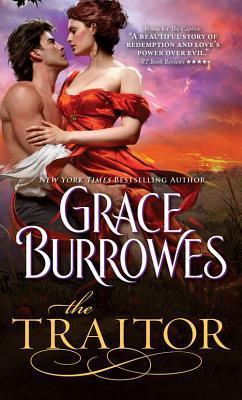 Courtney Milan is another historical romance author who I also think writes with deep emotion in her romances. I think fans of Only Enchanting are likely to enjoy The Suffragette Scandal. While it's hero did not serve as a soldier, he was touched by dramatic events. The romance of his suffragette heroine is wonderful and demonstrates how a writer can convey emotions in writing. See my full review for more on The Suffragette Scandal.