Lady Elinor's Wicked Adventure by Lillian Marek
Sourcebooks Casablanca, November 4th, 2014 (Historical Romance)*
My Rating: Beach Vacation (3/5)
Lady Elinor's Wicked Adventures is a cute, travel-centric historical romance. Viscount Tunbury has known Lady Elinor Tremaire since she was a child. Escaping his neglectful parents as frequently as possible, Harry spent his childhood growing up alongside Elinor. When he starts to feel considerably less-than-brotherly feelings for Elinor he decides to travel, putting as much distant between him and the woman he believes is much to good for him.
Upon his return to London, Harry is persuaded to accompany the Tremaine family on a continental tour, putting him in constant contact with Elinor, torture of the worst sort. Only it seems that Elinor just might reciprocate those feelings, putting Harry in a difficult spot since he feels that he must resist.
Lady Elinor wasn't exactly what I was expecting. I liked the fact that the hero has been carrying a torch for the heroine for years. How often does this happen in a romance? Usually it's the heroine that's pining for the older brother's best friend; but, I like the fact that this more expected convention was turned on it's head. It was refreshing to see a hero pining for a heroine. The hero didn't always deal with this well, but it was rather endearing.
I also really liked the more exotic locale of Italy. There are so many historicals set in London and the English countryside; it was a lot of fun to travel to the continent. And this element was really portrayed well, since readers were treated to the tourist's perspective through the Tremaine's eyes. The author did a great job of creating an atmosphere in this novel and it is the high level of detail that will draw me back to this author.
What I wasn't as keen on was the large cast of characters. I really was expecting the novel to focus on Harry and Elinor, but here there was a lot going on. There's an additional romance between Elinor's brother and their host's daughter, an Italian rebel causing trouble, and a mystery surround stolen loot from unearthed tombs. Personally, I felt that there was too much going on. There were too many plots and additional storylines and I felt that this distracted from the romance between Harry and Elinor. The romance between these two developed quickly and resolved itself even quicker, which seemed to be because the other storylines also had to be resolved. I think there could have been more of a focus here and I felt that this contributed to some plots being wrapped up too quickly.
Despite what I felt to be a rushing of the romance, I did like the "sweet" quality of it. An angsty romance is well and good, but sometimes something quaint and adorable is what you're looking for, and Lady Elinor fits the bill well. Combine that with some fabulous armchair travel, and you have a perfect way to spend the afternoon. That said, I did feel that Harry's high-handedness was a little over the top in the book. He really seemed to think he knew what was best for Elinor, despite the fact that even her parents never complained about what he felt was her outrageous behaviour. And while I understand why he felt that way, I did feel it was extreme and could have been brought down a notch.
Ultimately, there was a lot that I liked about this book and there was a lot of potential and I would be very curious to see what this author can do next. I would not be opposed to some more exotic settings outside of London, as this was a huge selling feature for me.
*Review copy provided by the publisher via NetGalley.
Similar Reads
If you liked the high-handed nature of the hero of Lady Elinor, checking out Sabrina Jeffries' What the Duke Desires is a great follow-up read. Max is hell bent on finding his long lost brother in France, and he can only do so with the help of an impetuous young woman. What's a stuffy man to do?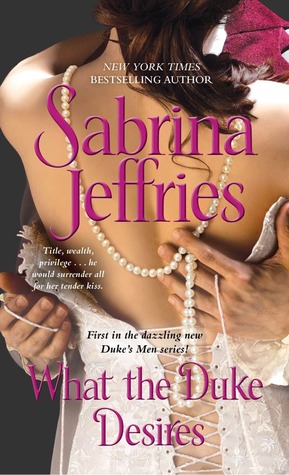 For another exotic locale and another pining hero, you can't go wrong with Connie Brockaway's As You Desire. We've got another hero named Harry, and he is just as desperate for his heroine, only he feels that he's no good enough. Folks, this one is adorable.
My last recommendation doesn't feature a pining hero, but it does feature a heroine afflicted with unrequited love. Anna Campbell's What a Duke Dares (yes, another Duke) is a much more angsty romance. The hero and heroine encounter many more obstacles than Harry and Elinor, but I think fans of the unrequited love them will be pleased.