The Companion by Ann Granger (Lizzie Martin #1)
Minotaur Books, June 12, 2007 (Historical Mystery)
My rating: Beach vacation (3/5)

Thanks to one of my wonderful co-workers, I've become quite the fan of British crime series. Happily, I finally discovered one that she didn't already know about. The Companion is the start of a series featuring Lizzie Martin, a recently impoverished young woman of the country, and Inspector Benjamin Ross.
After the death of her father, Elizabeth Martin takes the position of lady's companion to the widow of her god-father. Soon after her arrival in Mrs. Parry's home, Lizzie discovers that her predecessor has been murdered, and no one seems to care that much, at least until the police investigation impedes their daily lives. Lizzie finds herself pushing for information and is doubly interested when the lead investigator turns out to be someone she knew from childhood.
Inspector Benjamin Ross owes his current position to the goodwill of Lizzie's father, Dr. Martin, who paid for his education as a young boy. While Ross is willing to use Lizzie's position in the Parry household to further his investigation, he's mainly concerned with Lizzie's safety in the house. He feels that he owes something to Dr. Martin's daughter and senses that Lizzie just might be in danger as she's fulfilling the murdered woman's role, and because Lizzie has a penchant for speaking her mind, something the murderer just might not appreciate. Slowly both Ross's and Lizzie's separate inquiries come together, unraveling the mystery of the poor, murdered young woman.
What strikes me from the start in The Companion is the heightened sense of place. When Lizzie first comes to London, readers are treated to her first look at the famous city, in all it's dirty, filthy glory:
I have to admit I was curious to have my first sight of London and peered as we rumbled and bounded along. I hoped too for a breath of fresher air as the inside of the growler smelled stale and sweaty although it was clean enough. But I soon decided against putting my face through the opened window. The noise was deafening and there was an alarming press of other vehicles around us heading this way and that, the drivers all shouting at one another to give way and watch out. There seemed only a notional respect for the requirement to keep to the left, most preferring to go straight down the middle of the road if they could, often to avoid a slow-moving omnibus drawn by its weary sweating horses. As for the other requirement, that cabs give way to private carriages, that too seemed honoured more in the breach than the observance.
All this was to say nothing of pedestrians who put life and limb at risk to dart between unforgiving wheels which at the least spattered them with mud and worse and would have bemired me had I been fool enough to put my head right out.  Here and there crossing sweepers did their best to clear a path for the better dressed but most passers-by seemed resigned to the dirt. So I contented myself with observing from within as a bewildering parade of images flickered by, hardly glimpsed before gone (p. 5).
As the above demonstrates Granger does an exemplary job of showing what 1864 London looks like. It's not pretty, but I loved the sense of realism this conveys. What goes hand-in-hand with this atmospheric description is an unnecessary over indulgence in the minutia. Throughout The Companion the author continuously describes each characters movements, to the point that I felt it bogged down the plot of the novel. For example, Lizzie happens to stumble upon the murder victim's diary. Does Lizzie simply start reading the diary for clues? No, she immediately launches into an exposition on her opinion diaries and why she doesn't keep one:
It has never been my habit to keep a diary, although I know it to be the recognised thing for a young woman to do. What should I have written in mine, if I ever had kept one? (p. 270-71).
And on it goes. Lizzie's personal opinion on diary keeping has no bearing on the case. While it does reveal something about her character, for me, in interrupted the flow of events. I thought these tangents and heightened level of description to be overdone and not that interesting. The level of description that was spent in Lizzie's movements throughout the day were overdone, and I would have liked this commitment to detail to be put to use in other areas of the novel, namely the developing relationship between Inspector Ross and Lizzie.
The "romance" between Ross and Lizzie is a major part of this series, and at this point, I don't get it. There's really no basis for a relationship here. Yes, I understand the setting is Victorian and therefore, unchaperoned interactions between men and women are limited, but at this point, there seem to be unfounded feelings between the two. I felt that Ross and Lizzie's one chance encounter as children was used to illustrate a stronger sense of feeling between them than there actually was. The childhood relationship, if you can call one encounter that, was relied on too heavily as a plot device and was highly unrealistic.
As for the mystery element, I did feel engaged, and I liked that the mystery did look into the precarious life of women during this period. That said, I did feel that the prime suspects were little more than caricatures. There wasn't a high level depth to the mystery and while I finished it, I didn't feel a huge level of suspense pushing me to keep reading. Ultimately, this one is an "okay" mystery that I would recommend to fans of Agatha Christie and Elizabeth Peters. I'm willing to check out book two, but I'm going to need more focus on the characters to be kept interested.
Similar Reads
If you're looking for another classic styled mystery, Elizabeth Peters' Crocodile on the Sandbank is a good choice. Like The Companion, it's written in an old-fashioned style. It also features a romance, but it's also subdued.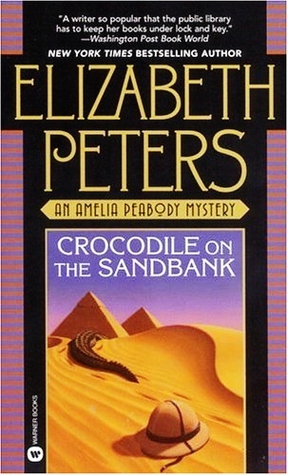 If you liked the character of Lizzie Martin, I also suggest Silent in the Grave by Deanna Raybourn. While this one is more heavily focused on characters, readers might like the impetuous lady sleuth, Lady Julia, who continuously finds herself investigating crimes.