The Clockwork Dagger by Beth Cato
Harper Voyager, September 16, 2014 (Steampunk)*
The Book…
Orphaned as a child, Octavia Leander was doomed to grow up on the streets until Miss Percival saved her and taught her to become a medician. Gifted with incredible powers, the young healer is about to embark on her first mission, visiting suffering cities in the far reaches of the war-scarred realm. But the airship on which she is traveling is plagued by a series of strange and disturbing occurrences, including murder, and Octavia herself is threatened.
Suddenly, she is caught up in a flurry of intrigue: the dashingly attractive steward may be one of the infamous Clockwork Daggers—the Queen's spies and assassins—and her cabin-mate harbors disturbing secrets. But the danger is only beginning, for Octavia discovers that the deadly conspiracy aboard the airship may reach the crown itself.
The Opinions…
Jaclyn
My rating: Liked the place, but the food was bad (2/5)
The Clockwork Dagger, what can I say about this one? There were elements that I did enjoy, but at the end of the day, I have to confess that it wasn't a notable read for me.
What I really liked in this one was the magic system. It was cool and I loved that it was at odds with those who believed in science and technology. This was a great theme: belief versus scientific fact, and I loved the contradiction of these two in Octavia's position as a medician.
As a medician, Octavia has the ability to heal anyone from their hurts, to the point that she can almost bring them back from the dead. The catch is that this ability is granted from the Lady:
The Lady was a woman and mother and of great faith in God. In times of sorrow, like now, her husband and children succumbed to illness. However, she used the wisdom gleaned from their deaths to go forth and help others. She traveled beyond the Wastes, healing. Some stories say the Wastes were a land of plenty then, or just starting to die. It depends on the telling. She saw more pain and suffering than most people could withstand, yet she endured. At the end of her life, she begged God that she still be able to heal. She was planted in the ground and grew as a tree bound to the very soul of the earth (p. 53).
Octavia, like other medician's, has a direct link to the Lady and when in communication with her, Octavia is able to save lives. I loved this concept and I liked the fact that Octavia is made to question the motivations of the Lady. The Lady might just be a little more selective than she first appears; she doesn't offer her healing abilities without discrimination. I can see Octavia losing much of her idealism and naïveté as this series continues.
While I loved the concept behind the world and the theme of faith and blindly following it, I had a hard time being interested in the characters. Octavia and her romance with Alonzo fell flat for me. Octavia's naïveté was interesting and initially I liked this about her, but I soon came to find that there wasn't much else to Octavia. I found her to be a very one-dimensional character with little depth to her motivations. Octavia was just a little too perfect.
As for the romance, because you know this was why I was checking out this book, I was quite disappointed. There was so much potential for conflict between the leads. Octavia's in danger and Alonzo is continually there to assist, a little too conveniently as Octavia learns. However, when Octavia discovers that Alonzo as ulterior motives for helping her, she's rather quick to forgive. Now, I'm the first to be frustrated when characters don't discuss obstacles in their path and refuse to understand why the other has done what they have. But in this case, I was surprised at how easily Octavia acquiesced. She came across as passionless rather than noble. And Alonzo – he has to be the only spy out there that's shy and given to blushes. To me, his manner of behaviour didn't fit the character that he was, a Clockwork Dagger, super-spy extraordinaire.
Ultimately, I wasn't a fan of The Clockwork Dagger and I don't think I will be back for a sequel. The world is interesting, but the characters are not developed enough for me to be engaged.
Stacey
My rating: Liked the place, but the food was bad (2/5)
I think I flew along with this one because I was on an airplane with nothing else to do and no sleep to be had.
I agree with Jaclyn's thoughts on the characters, especially the easy, conflictless romance between the main characters. I, too, expected Octavia to mistrust Alonzo when his true motives were revealed. Octavia seemed willfully blind to the hints that he was a Clockwork Dagger – in fact, she kept wondering if he was what he appeared, and then dismissing her natural suspicions for no reason.
Why was Alonzo portrayed as a bumbling spy? At first he seemed a good example, very observant and close-mouthed. When he began to blush, as Jaclyn says, it didn't ring true.
I did enjoy that Octavia saved herself and Alonzo several times. I found no fault with her position or conviction as a medician, and like Jaclyn, I enjoyed the discussion of blind faith and belief in the face of others' doubts. It was refreshing to see Octavia stand firmly behind her faith in the Lady, without pushing her beliefs on others. I particularly enjoyed her thoughtful consideration of the Lady's final motives. She takes a bit if a closer look at her deity. Unfortunately, this was kind of glossed over without any deep exploration.
The world and the magic were interesting, and I did like that it is a steampunk novel (with airships and strange technology) that was not set in an alternate history of our own world. That made the setting unique. Also original – the mythical, lost princess. I really liked that Octavia was not that princess.
On the other hand, she was just too Chosen One for my tastes.
*Review copy provided by the publisher via Edelweiss.
Read-alikes
For a more convincing bumbling spy in a steampunk setting, try Gilded Lily by Delphine Dryden. For Stacey's full thoughts on this one, see her review.
The Clockwork Dagger reads a lot like YA, which is great for crossover appeal. If you're more interested in a YA steampunk try Kady Cross' Steampunk Chronicles. These are action packed, filled with mystery and romance, and the characters are more dynamic than those found in Clockwork Dagger. Start with book one, The Girl in the Steel Corset.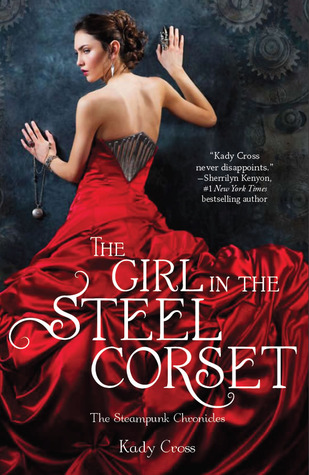 For a more realistic spy caper try Kate Cross' Touch of Steel. Again this one is action packed and the heroic spy actually does blush at times, but it always makes sense because of the author's characterization, unlike Alonzo, who is just labeled a spy without any actual evidence of the personality of a spy.