Jackaby by William Ritter
Algonquin Young Readers, September 16, 2014 (Historical Fiction; Young Adult)*
My Rating: I'd go there again! (4/5)

"Monsters are easy, Miss Rook. They're monsters. But a monster in a suit? That's basically just a wicked man, and wicked man is a more dangerous thing by far." (p.112)
Jackaby is a book that I've been hearing a lot of buzz about, and after finishing this historical fantasy wrapped in a mystery, I have to agree that it's worth the attention it's getting. Described as Doctor Who meets Sherlock this young adult novel will be sure to appeal to a wide audience.
Miss Abigail Rook is newly arrived in New Fiddleham, New England in 1892. Rather than attending school, Abigail is intent on finding herself an adventure. After participating on a dig for dinosaurs, Abigail finds herself with limited funds in New Fiddleham. Thankfully (or not, depending on your point of view) she soon finds employment with the investigator, Mr. Jackaby.
Jackaby has something of a reputation in New Fiddleham and Abigail is warned about getting involved with such an unusual man. Very quickly, Abigail realizes that there is much more to Jackaby than meets the eye:
"Miss Rook, I am not an occultist." Jackaby turned on the landing and faced me. "I am a man of reason and science. I believe what I can see or prove, and what I can see is often difficult for others to grasp. I have a gift that is, as far as I have found, unique to me. It allows me to see truth where others see illusion – and there are many illusions, so many masks and facades. All the world's a stage, as they say, and I seem to have the only seat in the house with a view behind the stage." (p. 34)
It seems that working as an assistant to Jackaby will lead Abigail into a world full of the unbelievable, and yes, adventure.
Jackaby is a fun young adult novel that very obviously made use of a Sherlock-type character. I don't mind the direct comparison as I think the author brought his own originality to the novel, and if you've ever watcher Sherlock, you'll know that this type of character can bring a great sense of humour to a partnership. Much of the interactions between Jackaby and Abigail did bring the show Sherlock to mind, but since I love that show, I was more than happy with this. And I liked that Ritter brought his own spin to this type of logical and methodical tale with the inclusion of monsters and the fantastical.
The combination of the logical with the fantastic was the unique element to the plot. Yes, Jackaby is bound by science, but he also accepts that there are strange things happening in the world. However, he is only willing to see those strange things because he knows that they are real, so the fantastical becomes the factual. I loved that the author was able to combine two things that should be complete opposites: science and monsters, and made them work together in the world. In Jackaby's, and now Abigail's, world, monsters and the unusual are just par for the course.
What I found interesting about Jackaby was the author's choice to make the Watson character a woman. Abigail Rook is an impulsive young woman chafing at the lot she's been given in life as a female. She doesn't want to be a debutant, she doesn't want to be left at home while others are off on their adventures, she wants her own adventures and her independece. Really, Abigail is striving to leave her childhood behind and become a competent adult, and not always successfully:
She sent me on my way with a wrapped piece of fudge for being such a good girl, which did nothing for my self-confidence as a mature adult. (p. 17)
Luckily, Abigail meets Jackaby and soon finds herself immersed in a murder investigation that just might be perpetrated by an otherworldly creature.
As for the mystery element to the story, I have to unfortunately say that I was a tad disappointed. I solved the "whodunit" a little too quickly, which is saying something since I'm not one to pick up on clues and solve the puzzle when reading a mystery. That said, I think the strength of Jackaby lies in the execution of how that mystery is solved and the creation of alternative world where the fantastic is indeed very real, necessitating an unusual detective to solve these odd occurrences.
Ultimately, I thought this was a great introduction to two wonderful characters. I can only hope that this transforms into a series. There is so much potential for further investigations for Jackaby and Abigail, so many fantastic creatures that they could encounter. Fingers crossed that I'll be seeing more from this author!
*Review copy provided by the publisher via NetGalley.
Similar Reads
I liked the first person narration in Jackaby and I think that it gives the novel a real "classic literature" vibe. Another novel that has also done this well is The Devil in the Corner. While there aren't eccentric investigators or otherworldly creatures here, the writing style and vibe is similar. See my full review of this title.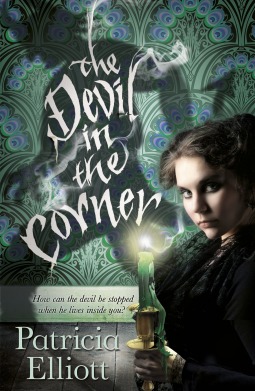 If you like the idea of a female sleuth in a historical setting, you absolutely must check out Y.S. Lee's The Agency series. Mary Quinn is a young investigator in Victorian London. She solves crimes and buts heads with James Easton. You must start with book one, A Spy in the House.
Not an obvious comparison, but I think Crocodile on the Sandbank is also a good choice if you enjoyed Jackaby. Amelia Peabody is an eccentric spinster who ends up solving crimes. Her abrupt and matter-of-fact behaviour bring to mind Jackaby. While this one is an adult novel, I feel that it's also suitable for teens.