The Unsuitable Secretary by Maggie Robinson (Ladies Unlaced #4)
September 16, 2014, InterMix (Historical Romance)*
My rating: I'd go there again! (4/5)
The Unsuitable Secretary is Robinson's fourth Edwardian historical romance. While I had mixed feelings towards the previous book, book four reminded me why I like this author. This romance was light and full of wit; quite frankly it put a smile on my face, so I am inclined to like it. Our hero and heroine are an unlikely duo. Thomas is a man about town, known for pointing out the Next Thing and possessed with a gift for gab. Harriet is a spinster determined to work despite her traditional father's objections, and she couldn't care less about the Next Thing, she has bigger concerns.
Sir Thomas Featherstone is hoping to start an artist colony. He loves art and wants to support those who are good at it but can't afford to do it full time. Fortunately, Thomas has money to burn even if his man of business is reluctant to burn it. What Thomas needs is a secretary dedicated exclusively to his project. At the behest of his friend's wife, Thomas finds himself at the Evensong Agency where he engages the services of a most unsuitable secretary.
He couldn't possible hire her. One did not lust after one's secretary. Thomas had reputation to uphold, false and annoying as ti was. Presumably Miss Benson was a proper young woman, and Thomas never consorted with proper young women. They were fatal to his bachelorhood, and a proper young woman who had to work for a living was even more deadly. He'd never been a cad to take advantage of the help and wasn't going to start now. How could this vision of divine womanhood sit across from him for sixteen hours a week without him making an absolute fool of himself? (p. 8)
Miss Harriet Benson is a twenty-eight year old spinster. She's determined to work as a secretary; however, ever since she fell ill her hours have been decreased and she has yet to recover to her full strength. A new part-time position working for Sir Thomas is just what she needs. She'll be able to work during the morning and keep house for her father and younger twin brothers in the afternoon. A perfect plan except that her employer might not be all that suitable either:
He was not quite what she expected, either. He'd been nearly inarticulate – practically mute – in the first few days she'd come to Featherstone House and its library, but she was beginning to understand the quickness of his mind once he started talk about his pet project. Sir Thomas Featherstone was a man who some might say had more money than sense, but that was utterly untrue. He just had bigger ideas than most of his peers. Those men were content to flit through life without much purpose. Sir Thomas had almost too much purpose (p. 10).
Despite each others "unsuitableness" Thomas and Harriet begin working together, and an unsuitable employment soon becomes an unsuitable relationship. Not only is it inappropriate for Thomas and Harriet to disrupt their working relationship, the gaping disparity in their social stations also stand in the way of a lasting relationship.
Early on in the novel Thomas decides to deal with his unfortunate attraction to Harriet by offering her the chance to become his mistress. They filled out a contract and everything! Normally I find this "generous offer" in a romance to be reprehensible and I will admit that I considered putting down this book because of that. Personally, the mistress relationship seems degrading and unlikely to foster a happily ever after than romances are predicated on. However, since I was reading a review copy of Unsuitable Secretary I felt obligated to continue reading, and I'm glad that I did. Thomas is one fumbling dude when he offers to make Harriet his mistress, the pair of them together are just so adorably awkward it was easy to believe that they were only making this choice because it was the only one available to them, or at least the only one they thought was an option.
While I'm not sure that I buy the fact that Thomas became such a fumbling, awkward man around Harriet in spite his talent for gabbing with everyone else, I have to admit that I was charmed by his awkwardness. It nice to not have have a supremely confident hero every once and awhile. Rose Gordon is another historical romance author that deals with awkward heroes particularly well, so I'm happy to encounter another more realistic hero. The actual relationship was new for both Thomas and Harriet and it was so fun to see their misunderstandings and mishaps; thankfully they were never that serious. Watching these two as the bumbled into a relationship was a real treat and one that I recommend for other readers looking for a lighter read.
I can't claim that An Unsuitable Secretary is a serious and emotional read, but it is funny and endearing. Personally, I'm not a fan of over-the-top emotional reads, so this one suited me just fine. This is the perfect read for someone looking for a smile and a fun departure from reality. Make sure that you check out the other books in the series, especially In the Heart of the Highlander.
*Review copy provided by the publisher via NetGalley.
Similar Reads
For another working relationship that goes wrong – or very, very right as the case may be, give There Weeks with Lady X a try. The characterization of the hero and heroine here are very different but if you like the set up of Unsuitable Secretary you might also like Lady X where the heroine also enters into the employ of the hero.
While Unraveled isn't as light or witty as Unsuitable Secretary, it also tackles the mistress trope without having me want to throw the book across the room. And really, you just should read something by Courtney Milan.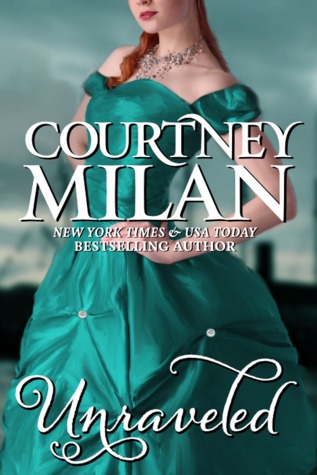 And for the last class-conscious recommendation, try Tessa Dare's Any Duchess Will Do. The hero and heroine face seemingly insurmountable challenges because of their class differences, but like Robinson, Dare finds their happily ever after in due course with a lot of hilarity.