The de Valery Code by Darcy Burke (Regency Treasure Hunters #1)
August 19, 2014 (Historical Romance)*
My Rating: Beach Vacation (3/5)
The de Valery Code is Darcy Burke's newest historical romance, and also a start of new series. I was quite a fan of Secrets & Scandals series, and I loved the adventurous premise of The de Valery Code.
Margery Derrington is an impoverished spinster living with her two aunts. Money is tight for this small family and they need to come up with some ready cash or Margery will be forced to marry to keep them afloat, a notion Margery does not want to contemplate until absolutely necessary.
Marrying for love didn't interest her. Love didn't interest her. Life was far easier to navigate if she kept that sort of emotion at bay. She'd buried her sentimentality deep after her parents had died. (p.6)
Luckily, Margery and her aunts stumble across a rare and possibly valuable medieval book by Edmund de Valery. While the family doesn't want to part with such a treasure, the need for something to live on is dire, so Margery sets off to discuss the sale of the book with noted scholar, Rhys Bowen. Rhys immediately recognizes the priceless treasure that Margery carries, and hopes that the book will ultimately lead him to an Arthurian treasure trove, thus solidifying his name as a scholar of note. However, Rhys has no intention of sharing this information with Margery, and so a battle of the sexes ensues. I have to admit that I'm a little torn with this one. I was really looking forward to it since I had loved the other books by the author that I've read, but at the end of the book, I felt that there was something missing in the romance department. The adventure and the storyline themselves were great; I wanted to find out who was behind the attempted thefts of the book. I was less interested in Margery and Rhys as a couple.
What I liked about this one was the adventure and on-the-road romance theme. There were bits of humour between the two main characters that were great and entertaining. There is one particular scene where they keep meeting in the hallway that I thought was too cute. The instances with the flashes of humour were a big hit with me; however, they didn't make up for my lack of interest with the hero and heroine. Perhaps had there been more interactions between Margery and Rhys like the meetings on the stairs I might have been more engaged with the romance.
For me, I just didn't feel the connection between Margery and Rhys. They were both so stubborn for so much of the book, that I felt myself losing interest in their happily ever after. Margery in particular was extremely resistant to committing to a relationship:
She'd pushed him away at every opportunity because allowing him to get too close meant losing him would only hurt that much more. As it was, the thought of never seeing his eyes light at that precise moment of discovery, or hearing his warm laugh, stung deep. (p. 214)
While it was explained why Margery wasn't interested in a permanent relationship, I just couldn't help but be frustrated by the continued resistance. Generally, in the romances that I read, I tend to like those that spend more time with the hero and heroine as a couple as opposed to the bulk of the book focusing on the progression to that relationship.
Ultimately, The de Valery Code was a solid read and a good choice for fans of adventurous romances. There's villains and a secret order of Arthurians that brought a nice element of suspense to this one. I'm certainly going to be back for the second book in the series since I'm quite curious as to the direction and the characters to be featured in book two.
*Review copy via NetGalley.
Similar Reads
For another on-the-road romance that is also funny and features books, try Miranda Neville's The Amorous Education of Celia Seaton. This is also another couple that does not actually want to be a couple. I highly recommend it you're looking for a laugh.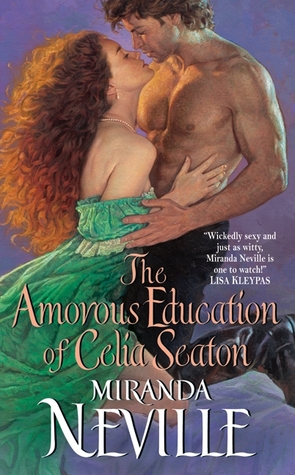 While the duke of Laura Lee Guhrke's Guilty Pleasures isn't quite the brain that Rhys is, his leading lady, Daphne Wade certainly is. While there's no on-the-road component here, the measures to which the hero goes to win his heroine is what I would have liked to have seen in The de Valery Code.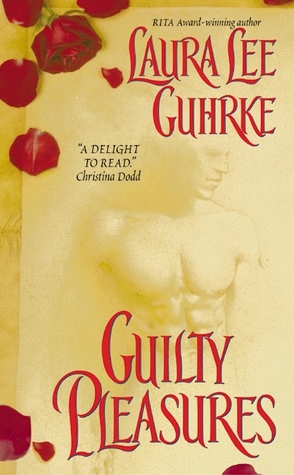 If you're looking for an author with a similar writing style to Burke, I would recommend Stephanie Sloane's The Saint Who Stole My Heart. In this one books plan an important role, but I found the pacing and the character development to be similar to The de Valery Code.