Half a King by Joe Abercrombie (Shattered Sea #1)
Del Rey, July 15, 2014 (Fantasy; Young Adult)
My rating: Beach vacation (3/5)

He had always been weak, but he never felt truly powerless until they made him a king. (p. 32)
After reading The Blade Itself I've pretty much jumped on the Joe Abercrombie bandwagon. I was quite curious to give his young adult foray a try. Would it be just as grim? Just as violent? I can't say I was necessarily disappointed, but I will admit that I didn't like it as much as The Blade Itself.
Prince Yarvi is training to become a minister, as the younger, and crippled son, he really has no other option, until his father and elder brother are killed by an enemy. Yarvi suddenly finds himself, completely unprepared, sitting on the Black Chair as king:
It took a fearsome effort to turn his head back toward the Black Chair.
Could he truly sit in it, between gods and men? He, who could hardly bring himself to touch it with his crippled joke of a hand? He made himself reach out, his breath coming shallow. Made himself lay his one trembling fingertip upon the metal.
Very cold and very hard. Just as a king must be. (p. 29)
And as king, Yarvi finds that he must vow to get revenge on the enemy that killed his father and brother, only it seems the enemy might be closer to him that he ever would have suspected.When he's betrayed, Yarvi is forced into slavery to save his skin and it changes him from the relatively pampered boy he was was to someone harder, and more willing to make the difficult choices:
Strange, how quickly a king could become an animal. Or half a king half an animal. Perhaps even those we raise highest never get that far about the mud. (p. 66)
Banding together with his fellow slaves Yarvi is able to escape and vows to get his revenge on those that betrayed him and reclaim his rightful place on the Black Chair. Adventure ensues, secrets are revealed…
The premise to this sounds so amazing, so why was I disappointed? To be honest, I found Half a King a bit of a challenge to get into and the beginning to be a bit slow. Of course the characters are compelling and interesting, but it took a while for me to be fully engaged in the story. I also have to admit that I really missed the multiple perspectives that characterized The Blade Itself. There were so many interesting people in Half a King, but readers only ever "hear" from Yarvi. That's not necessarily a bad thing, it's just something that I missed.
Finally, I also think the labeling of Half a King as young adult also coloured my expectations of the type of tale to expect. While you do get dark themes in YA, generally the fantasy genre subscribes to some pretty standard scripts, and usually the characters are honourable and essentially "good." That's certainly not the case with Half a King, and while I would expect that in an adult novel, it wasn't something I was really expecting in a YA. In theory I love the fact that Half a King is operating outside of expectations, but ultimately I was expecting a different type of tale with a different type of "hero." Yarvi is not your standard hero, he's not even your standard underdog hero that rises to the occasion. Yarvi is a well-developed character who's motives are not black and white, and by the end of Half a King the changes to Yarvi are evident. I'm not sure that I like the direction Yarvi is moving in, but I certainly want to find out how these changes play out in book two.
Half a King was a good start to a new trilogy and while I have some reservations about the book, I'm going to reserve judgement until I read the remaining books. For all I know, Abercrombie could turn everything around by book three, or not, but at any rate I know I will get a good story.
Similar Reads
If you liked the unlikely king theme, The Goblin Emperor is another book that tackles this more fully. Although Maia is a more honorable character than Yarvi, so it likely is not a good choice if you're looking for something as dark as Abercrombie's writing.  The Goblin Emperor is completely driven by Maia's change from unacknowledged son to emperor and his coming to terms with his lack of freedom and the power that he wields; it is an excellent character study.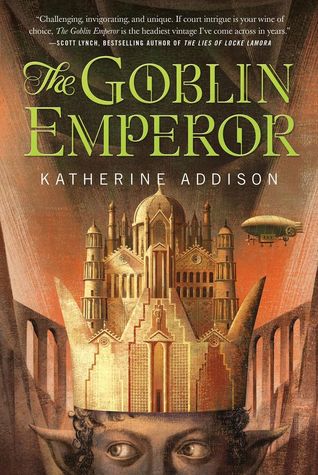 For another book about reclaiming the throne try Melina Marchetta's Finnikin of the Rock where a young man finds himself helping the supposed heir to a throne. It's more your standard YA adventure, but the world buildlng is complex, and it's one of the darker YA fantasy books that I've read.