In no particular order, our top ten steampunk books/series that have airships! (Note: multiple books in one series will be collected and listed as one)
1. The Spritwalker trilogy is one of my favorites. And it's steampunk, and it has the occasional airship, so I've decided to include them all here. The series follows young Cat Barahal and her cousin Bee, around a world similar to our own but very much re-imagined. There are gates between mortal and spirit realms, shapeshifters, superbly drawn sibling relationships, love stories, revolutions, and more.
2. In The Iron Duke, Detective Inspector Mina and "Iron Duke" Rhys Trahaearn join forces to save England from conspirators and zombies. Along the way, they fall in love. The subsequent books in the Iron Seas series also feature airships, so read those too!
3. In Conspiracy of Alchemists, Elle Chance is a dirigible pilot. When she picks up suspicious cargo, she becomes embroiled in the Shadow's plans to sacrifice a young woman to plunge the world into darkness. Irritating Warlock Hugh Marsh helps (and hampers) her.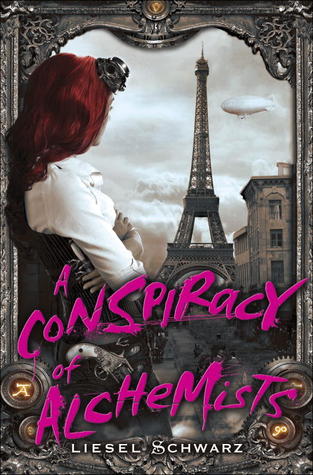 4. Emma Jane Holloway's series: The Baskerville Affair (reviewed on our blog) puts Sherlock Holmes in a steampunk London. The stories focus on his niece, as she investigates strange occurrences and hides her magic from the world. Having grown up in a circus, she is originally torn between her best friend's noble brother, and her childhood sweetheart, a circus performer-turned-airship-pirate.
5. Scarlet Devices and Gilded Lily are the second and third in the Steam and Seduction series by Delphine Dryden. Scarlet Devices features romance among an airship Reviewed on our blog, it is the third in a series by Delphine Dryden, in which the daughter of a spymaster (and secret mechanic) gets involved with the most hopeless spy ever, in the search for the latter's brother.
6. Leviathan by Scott Westerfeld is the start of a fabulous young adult alternative history trilogy. Prince Aleksander, the heir to the Austro-Hungarian throne is on the run after the assassination of his father. Taking refuge on an airship he meets commoner, Deryn Sharp. Of course Alek has no idea that Deryn is actually a girl in disguise!
7. Tin Swift by Devon Monk is the second in the Age of Steam series. While it is essential to start with book one, Tin Swift is where the airship action happens. Might there be problems with a werewolf on board?
8. Many of Zoe Archer and Nico Rosso's Ether Chronicles feature airship adventures. The heroes that Archer have created are all irrevocably attached to their airship, making them quite vulnerable when something goes wrong.
9. Cindy Spencer Pape's Gaslight Chronicles is another great steampunk romance series. For an airship adventure check out Dragons and Dirigibles, where a young lady crash lands her aircraft on the land of a very stuffy and suspicious Earl. See our review for full thoughts on this one.
10. Lastly, Pip Ballantine and Tee Morris' Dawn's Early Light deserves mention on this list. While this one is the third in a series, this one goes into the more technical side of steampunk. Could the illustrious Thomas Edison be behind a rash of aerial disasters?