Today, Jaclyn, our friend Koren and I have teamed up to bring you our Top Ten Favorite Adventures in Egypt. Mystery, history, and romance backed by lush and exciting scenery. So, if you've ever wanted to go to Egypt, or you've been, and you miss it, or even if you just want to read about an exotic, historical locale this summer… check out one of these books!
Jaclyn's picks
The Other Guy's Bride by Connie Brockway. If you enjoyed The Mummy at all, you will find this historical romance an absolute fantastic adventure. This book is funny and romantic and exactly how I fantasize an Egyptian adventure would unfold. This one likely isn't the most historically accurate of the bunch, but it's a whole lot of fun.
Shadows on the Nile by Kate Furnivall. Although I read this one quite some time ago, it has continued to stay with me. It's set just after the first world war and has more of a mystery element to it. Quite a bit of the novel actually takes place in London, England, but I loved seeing the heroine's reaction to traveling to Egypt.
Resurrection by Tucker Malarkey. Is another Egyptian adventure that's similar to Shadows on the Nile. However, the novel is set completely in Egypt. What I liked about this one is that readers are treated to a more involved look at colonial life in Egypt. Again, there's a dash of mystery here, but on the whole, Resurrection is much more introspective.
The Sacred River by Wendy Wallace. I recently reviewed this one and I recommend it if you're looking for a quieter adventure. While on the surface this one is an adventure to Egypt for three very different women, this journey is a metaphor for the internal transformation that each woman goes through. This one is beautifully written.
Koren's picks
Memoirs of Cleopatra: This is a long haul, but worth it. A dying Cleopatra recounts her life following her personal and political struggles (sometimes one and the same) up until her suicide. George paints a brilliant, detailed picture of Egyptian court life and politics during this period, from the relationships between the pharaohs to the strengthening hold of Rome over the country. If you really want to get to know Cleopatra, Memoirs does a great job of connecting the reader with the famous pharaoh.
The October Horse is the sixth book in McCullough's Masters of Rome series and though the title suggests this is the story of Caesar and Cleopatra, that is only a portion of the book. It also covers Caesar's dictatorship and assassination, as well as the rise of Octavian. Cleopatra and Caesar's relationship is a different than what is usually portrayed – it is a lot more calculated (on his part) and Cleopatra comes off as more of a girl in love than a "sex-pot" set on securing her own power. McCullough makes ancient history so readable. She's able to take oft-dry topics of ancient politics and military campaigns and makes them come alive.
The Queen of the Damned is the third book in Rice's Vampire Chronicles. Akasha, the titular "Queen of the Damned", is an ancient Egyptian queen who is cursed to become the mother of vampires. I love Rice's vampires – sparkly they ain't – and this origin story is fascinating.
The Red Tent is the story of Dinah, daughter of Jacob and Leah (and Rachel, and Zilpah, and Bilhah). Through the teaching of Rachel and others, Dinah becomes a skilled midwife. Her life takes her into Egypt where, unknown to her, her brother Joseph (of the technicolor dreamcoat) is prime minister. There's only a brief mention of Dinah in the Bible, but Diamant has fleshed out her story so that we have a vivid picture of the lives of women in the ancient world.
Stacey's picks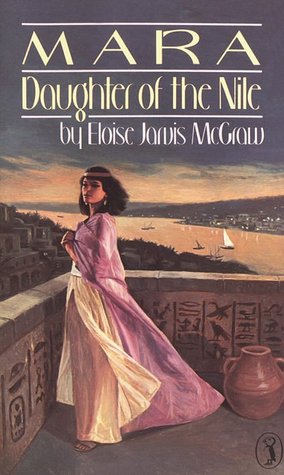 Mara, Daughter of the Nile is an enchanting ancient historical romance about a proud, determined young slave named Mara. In her quest for freedom, she becomes a double agent, spying for two masters – and finds herself falling in love with one of them. I loved this quick, evocative tale that brought to life not only this clever young slave, but also the world of ancient Egypt. Marked as, and written for, young adults, it works equally well for adults.
The Beacon at Alexandria features a woman who disguises herself as a man to enter a "man's" profession, travels to Alexandria and moves on to become a doctor on the Roman war front in Thrace. It is a wonderful tale that will surely please historical fiction fans. Bonus: it covers ancient Roman history and the war with the Visigoths.
 Honorable Mentions (by Stacey)
Twelve Rooms of the Nile – the fictional tale of a passionate meeting between Florence Nightingale and Gustave Flaubert as they both travel down the Nile. Based in fact – they both traveled up the Nile at the same time – it weaves in a beautiful story of how they might have met and become soulmates. I've only read part of this one, but what I did read had wonderful imagery and great, boating-on-the-Nile pace.
I haven't read Cleopatra and Antony yet, but it appeals to me because the focus (even in the title) is (supposedly) on Cleopatra. This is a historical nonfiction, about the life and times of Cleopatra, Octavian, Caesar, and Antony. Have you read this? Did you like it? What were your impressions?