Alias Hook by Lisa Jensen

Thomas Dunne Books, July 8th, 2014 (Fantasy)*
My rating: I'll go there again! (4/5)
Most of you have seen or read some version of J. M. Barrie's stage play Peter Pan, or the Boy Who Wouldn't Grow Up or his novel Peter and Wendy. I grew up on a version I can't find now, that used to play on TV every year. We may have had it on beta tape for awhile. (So there, you now know approximately how old I am). In the stories, Peter Pan is a mischievous young boy who lives in Neverland, leading a bunch of riotous boys and pretty much having the time of his life. He refuses to grow up, and in Neverland, he doesn't. His archenemy is the "evil" Captain Hook, a pirate who is one of the features of Neverland.
In this novel, Hook tells his side of the story. While he is portrayed as a very sympathetic character – he's charming, he doesn't want his men to die uselessly, he's really the victim, since he's unwillingly stuck in the Neverland – the best part is his transformation over the course of the events in the book. He begins very childishly, unable to see his own faults and mistakes. He is unaware of his own agency, his own responsibility for his actions and his power over his own future. Trapped in the Neverland for centuries, he hates everything about it. The fairies and Native Americans who live there, the spooky loreleis, and most especially Pan and his Boys. The endless wars, the death and killing, the sameness of it all. In this tale, Hook is not a villain, just a flawed hero. A dynamic hero, whose tale is one of character growth and growing up. In his childishness, he represents us at our most immature. Growing up is a thing we spend all our lives doing, and Hook personifies that struggle. He demonstrates that there is hope for those of us who grow up later than others. Even his rivalry with Pan is interesting – two childish characters, one who would love to live the real world (or die) but has not realized that he is his own biggest obstacle. And even flawed heroes can be redeemed, can grow up and find love. For that last bit, enter governess Stella Parrish, a woman who dreamed herself into and was called to Neverland to escape the ravages of the Second World War. Her arrival sparks Hook's transformation.
As Hook narrates, he lives flashbacks of his former life in the real world, where he became a pirate and swore vengeance on those more fortunate than he. (Hence his "evil" nature). Every part of the tale seemed well-woven to me, the flashbacks intertwined so carefully, and each piece of the story vivid and evocative. There are layers to this tale, memory overlaid by current events and metaphors and symbolism underlying the adventure. At one point, Parrish and Hook compare their views on Satan in Milton's Paradise Lost, and Parrish sends up an unsubtle comparison between Satan, hero with a tragic flaw, and Hook.
The only thing that felt off to me was that the boys (all boys) are described as cruel, vicious little monsters, without any hope of reforming or growing up. And yes, I know that's the point of Neverland, but the language used made it seem like it was all boys. Until we meet the boy at the end of the story, who has not dreamed himself into the Neverland's world of avoiding responsibility and maturity. It felt to me like the Neverland boys were used as models to stereotype all boys.
This is a book about growing up. It compares the Pan, who refuses to grow up, and Hook, who thinks he is grown up. The readers follow Hook's journey to maturity, and thence, back to the real world. The ending is perfect. Not depressing, nor overly sappy, its message is one of hope and new beginnings, and thus carries all the way through the main themes of the novel. Almost, the Neverland felt so real and fantastic that I was relieved to enter the real world again at the end.
I loved Hook's way of calling Peter Pan "Pan." It brought to mind (for me) the mythological Pan, loosely related to the satyrs or fauns, who are Dionysus' companions – and connected with wildness, wine, and pleasure-seeking. While this might be a loose connection, and not shared by others, for me it added another dimension to Peter, and reinforced this Peter's wildness, cruelty, and wiliness.
One of my favorite aspects is the spin in perspective on the classic tale. It's difficult to remember in everyday life that there is always another side to the story, and that those we perceive as villains may be more complex than we realize. I love that we get to "walk a mile" in Hook's shoes, as it were. And in such an imaginative and entertaining way.
If you're a Peter Pan fan, or a fan of well-written, fast-paced fantasies with complexity and multiple layers, you'll probably enjoy this one. Like a sympathetic villainous protagonist? This one has him! Want a light story about adventure, quests, and romance? This book is for you.
*Advance e-reader copy provided by the publisher via NetGalley
Read-alikes
If you're really into a fun about adventure on the high seas and fantastical cultures, you might enjoy Child of a Hidden Sea, by A.M. Dellamonica. About a young woman who finds herself in a strange world after stalking her birth mother and defending her aunt from thugs.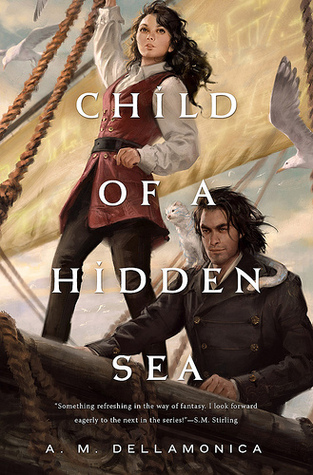 If you're looking for another tale about an insular, magical, strange community and a protagonist who doesn't quite fit in, try the brief story by Tracy and Laura Hickman about a young woman with amnesia who returns "home" and discovers nothing feels right.