Gilded Lily (Steam and Seduction #3), by Delphine Dryden
July 1, 2014 by Penguin Group* (Steampunk)
My rating: I'll go there again! (4/5)
Gilded Lily is an entertaining, sweet steampunk romance (definitely more steampunk than romance). The third installment of the Steam and Seduction Series, it works very well as a stand-alone novel, with only one or two obvious references to previous plots and romances.
Fred (Freddie) Merchant is really Frederique Murcheson, a young lady of quality in steampunk London who prefers to spend her time in trousers, fixing mechanical tools and appliances. Her father, in his attempts to keep her safe and out of scandal, has assigned Lord Smith-Grenville as her latest minder. In short order, the secrets of each are exposed to the other, and they begin a partnership based on mutual extortion.
Barnabas Smith-Grenville is searching for his younger brother, Phineas, reported last seen in an opium den. While he is prepared to find his brother dead or an opium addict, he refuses to believe it could be true. To find out what's happened to Phineas, Barnabas applies for a job with Freddie's father, who used to employ Phineas. When Barnabas and Freddie sort out their mutual supposedly hidden agendas, they decide to work together to investigate his brother's disappearance and her father's clandestine doings. In the usual manner of stories about amateur sleuths, they stumble upon deeper secrets and conspiracies than they have prepared for, and are soon dealing with an opium smuggler, earthquakes, underwater science stations, and deadly squid-like creatures. 
Gilded Lily is a light, fluffy, funny steampunk romance that checks all the usual boxes. The interactions between the characters were for the most part convincing and the characters themselves were fun to follow. Uniquely, the hero of the novel, Barnabas, is not really the hero type at all. While he is determined to find his brother, the consummate spy, he is terrible at hiding his thoughts and feelings, cautious about going into dangerous situations, and anxious about just about everything. Basically, he sucks at spying. He's stuck on propriety, but open-minded enough to support Freddie's lifestyle choices. I enjoyed his nagging, worrying, and uncertainties as a refreshing change from the Hero trope. Phineas, his brother, is more suited to be the hero of the tale, but he remains a secondary character throughout (I'm pretty convinced that he will be the protagonist in a sequel).
The other stand-out feature from most steampunk novels I've read so far is the focus on submersibles, instead of airships. There are airships, and they support the action in this story, but the majority of the action takes place in or around submersibles. While earthquakes in the Channel kept throwing me off stride (the British Isles not being a place one often hears about earthquakes causing damage), I did enjoy reading about alternative underwater technology, as opposed to the more common alternative air travel technology.
Without being very original or complex, this novel has some unusual elements, and succeeds in being exciting, fun, and just slightly ridiculous (in a good way). I thoroughly enjoyed it, and recommend it to fans of steampunk genres.
*Advance copy provided by the publisher via NetGalley
Read-alikes
If you like your steampunk with magic as well as alternative technologies, and a dash of Sherlock Holmes, you'll likely enjoy A Study in Silks (The Baskerville Affair #1) by Emma Jane Holloway, in which Sherlock Holmes' magical niece uncovers plots and comes to the unwelcome attention of the all-powerful Steam Barons.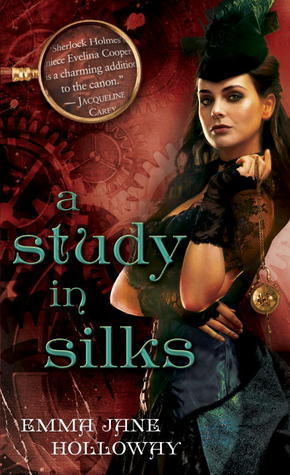 Want steampunk set in an alternate America, instead of an alternate England? Try the slightly racier serial Disenchanted & Co., by science fiction and fantasy author Lynn Viehl. In an America that lost the Revolutionary War, Kit solves crimes and uncovers magical frauds. Her arch-nemesis, Lord Lucien Dredmore, complicates and heats up things. One thing to like about this one – Kit's determination to remain independent.
If you're really looking for romance in your steampunk, you'll want to check out The Iron Duke by Meljean Brook. The first in a series, it pairs young Detective Inspector Mina Wentworth with the national hero, the Iron Duke. Against zombies.