A Grave Matter by Anna Lee Huber (Lady Darby #3)
Berkley, June 1, 2014 (Historical Mystery)
My Rating: I'm going there again! (4/5)

I have been dying for the next Lady Darby book since I finished Mortal Arts – a year ago. This series has had me hooked from the get-go and I have yet to be disappointed. A Grave Matter was another great installment and ahead of me stretches another long wait until book 4. *Sigh*
Grave Matter picks up a couple of months after Mortal Arts. Kiera is now staying with her brother, Trevor, and grieving the loss of her friend Will. While attending a Hogmanay Ball hosted by her aunt and uncle, Kiera is once more drawn into an investigation when the neighbouring lord's caretaker is murdered and old bones are stolen for ransom.
What's great about Grave Matter is the fact that Kiera is more of an established investigator now. She is asked to investigate by those outside of her immediate family, and because of her new found renown, Kiera is also asked to bring inquiry agent, Sebastian Gage, into the mix. Readers of the previous two books should be aware of Kiera and Gage's less than stable relationship, so Kiera is reluctant to contact Gage since she knows that it will change their dynamic considering how things were left in Mortal Arts.
So what makes Grave Matter so great? Let me explain…
1. Kiera's Family
As always Kiera's family really stands out in the series. In the previous two books it has been Kiera's sister and brother-in-law that have continued to support her following her societal fall. It so nice to have a supportive family in a series. I don't know if I've just been reading way too many historical romances (a distinct possibility) but it seems that bad family members seem to be the norm. I like the fact that Kiera has a strong support system and you can see how heavily she had relied on them following the death of her first husband and her subsequent fall from grace, and in Grave Matter you really get to see the impact of Kiera's reputation when she does venture out into society.
In Grave Matter readers are now introduced to Kiera's brother, Trevor, who was another great addition to Kiera's family. I liked the fact that Trevor supported Kiera's taking part in the investigation. He didn't like it, but he never once stopped her or implied that she shouldn't be involved. Trevor was more concerned because he was her brother and wanted to protect her from any further hurt, especially since he feels guilt for not helping Kiera sooner in her disastrous marriage.
I also liked the fact that Kiera often turned to her brother for advice in Grave Matter, it served to give their relationship more depth. It wasn't a window dressing relationship, it was a sibling relationship that actually had a point. Trevor gave Kiera some much needed advice and made Kiera ask herself some hard questions. Trevor also helped readers to understand what happened before Kiera's husband died, and why the family had been unable to help her sooner. Ultimately, Trevor was a great addition, and I hope that we get to see more of him in subsequent books.
2. Character Development
Kiera has come such a long way from book one where she was hesitant and so obviously coming out of a disturbing relationship with her first husband. Kiera didn't have a lot of confidence outside of her own family circle in book one, but with book three Kiera seems to come into her own. She recognizes that she enjoys investigative work and she even seems less bothered by the snide comments others to and about her and her past as a illustrator of anatomy.
I also liked how Kiera is also moving forward with her life. At one point, she's speaking with her brother and he mentions that she has freedom of choice, she has options open to her: she can paint, investigate, marry and have children. The point Trevor drives home, is that Kiera now has the power to choose her fate, something that I don't think she understood in the previous two books, she was much more inclined to be passive about the direction her life took. This power of choice comes out the strongest in Kiera's relationship with Gage, who threatens her in a way she's not sure that she's ready for.
3. The Romance
I'll be honest, I mainly read this series because of the romance element, the mystery is simply a bonus for me. Happily for me, there is a lot of movement on the romance front for Kiera and Gage. Secrets are revealed, motives are questioned and decisions are made, of which I will say no more.
What I liked about Kiera and Gage in Grave Matter was the fact that Kiera is struggling with her feelings for Gage. She had a bad first marriage and she doesn't really trust herself going into a new relationship. I think this is a pretty realistic portrayal and I liked that fact that we got to see Kiera's thought process in her interactions with Gage. She has to decide whether or not he's worth the risk.
A Grave Matter was another excellent addition to the Lady Darby series. For me, the strongest element was the changes to Kiera as a character. She made some difficult choices about the way she wants to live her life and these will most certainly come to the fore in the next installments to the series – and I can't wait!
And if you're anguished now that you also have to wait for the next book, check out a few series that I recommend below that will keep you going in the Lady Darby drought.
Similar Reads
I've listed the series that I think are similar to Lady Darby below, but if you're looking for more Lady sleuths, check out my post The Lady Investigates for more intrepid heroines with a knack for crime solving.
For another unconventional lady sleuth, try Murder as Rosamund's Gate. Lucy is not of the upper class, she's a chamber maid and when her friend is murdered, it's up to Lucy to find out what really happened. I found the tone to be very similar to the Lady Darby series.
The second series that I have to recommend is Sebastian St. Cyr. I know what you're thinking – she's recommending this again! Well, yes, yes I am. There is something so similar in the writing style of these two series, and they both have such strong character development that keeps you coming back for the next installment.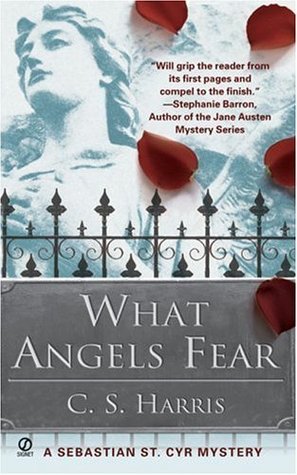 I also think Deanna Raybourn's Lady Julia mystery series is also a good choice if you like Lady Darby. Like Huber's series, Raybourn's is also written in the first person. This can be a style that many love or hate, I think it works in both series. Lady Julia has a little bit of the paranormal but it certainly doesn't overwhelm the plot.