Midnight Thief by Livia Blackburne
Disney-Hyperion, July 8, 2014 (Fantasy; Young Adult)*
My rating: Beach vacation (3/5)
Midnight Thief is a teen fantasy debut by Livia Blackburn and her homage to Tamora Pierce. I loved Tamora Pierce as a teen, so I was pretty excited for this one. And while there were elements of The Midnight Thief that I liked, I ended up feeling rather dissatisfied with this one. I was hoping for more, and when I finally did start getting invested in the story, it wrapped up and I was left feeling a bit at sea.
Kyra is a former street kid, and now makes her coin as a thief. When the two girls she looks out for need more help than she can provide, she finds herself agreeing to a new job: working for the Assassin's Guild. They'll pay her, and pay her well. Of course, the Guild promises that they just want her thieving abilities, but it's not long before Kyra is asked to do more than she's comfortable with. Will her desire to protect her makeshift family and bring down the palace override her sense of morality?
The other point of view readers get is of Tristam, who is a young Palace knight, making him Kyra's enemy. He stands for everything that Kyra's against. He's the have, while she's the have-not. But somehow Tristam finds himself questioning the Palace for the first time and wondering if what he's doing is the right thing. Will Tristam sacrifice his humanity in the name of duty?
The plot of Midnight Thief was promising. I love that historical fantasy vibe and the opposites attract kind of relationship I could see happening between Kyra and Tristam. Unfortunately, I was disappointed. It took a long time for this story to really get moving; in fact it took a long time for Kyra and Tristam to even meet. And these divided plots were what really disappointed me in this book. In my opinion, it too way too long for these story lines to converge. I get that seeing both sides of the conflict was important, but it think it could have been shortened. It wasn't until Tristam and Kyra actually met each other that I really got into the story. What can I say? I was looking forward to these enemies interactions/fights and their eventual road to friendship and romance, but this just didn't come about as strongly as I would have hoped.
While I was pretty dissatisfied with the pacing of this one, I did like the concept and I appreciate the fact that the author has such a flawed character for her heroine; Kyra's a thief after all. I liked the fact that the author didn't shy away from Kyra making some pretty bad choices, with very serious consequences. Kyra did grow up on the streets, so I think it was a pretty authentic portrayal of what someone in those circumstances would do. Kyra's precarious position in the world was what made her vulnerable to the Guild and others trying to influence her. This didn't make her weak, it made her seem very human, and I liked this quality about her.
Ultimately, I don't think that Midnight Thief can stand alone and will potentially frustrate readers with its starting point ending. It felt very much like an introduction, and while I know that it's the beginning of a series, I was left with more questions than answers. And I don't know if these questions will have me coming back for the next book.
*Review copy provided by the publisher via NetGalley.
Similar Reads
When Tristam and Kyra finally do meet, she's his prisoner. This dynamic between them as well as the methods used to imprison and control her, reminded me of Poison Study. However, with Poison Study, I felt that you were left with a more complete ending, despite the fact that it's a trilogy.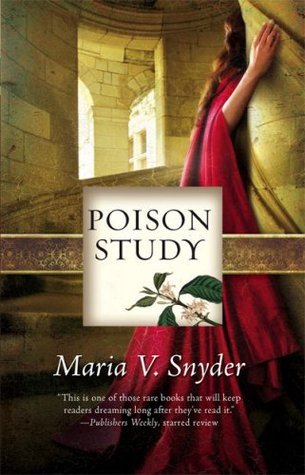 If you like the anti-heroine theme in this one, I'd recommend Throne of Glass where you have an assassin heroine. It's great fantasy.