Shield of Winter by Nalini Singh (Psy-Changeling #13)
Berkley, June 3, 2014 (Paranormal Romance; Urban Fantasy)
My rating: I'm going there again! (4/5)
Nalini Singh was recommended to me by a co-worker after we raved and discussed Anne Bishop's Written in Red. Of course, I decided to start with the most recent book in Singh's Psy-Changeling series. I wanted to jump right in and the latest book to the series seemed intriguing, despite my long standing ambivalence to urban fantasy; I'm not generally an urban fantasy fan, Bishop's series being one of the exceptions. To my surprise, I loved Shield of Winter and I immediately snagged the other books in the series on my lunch break.
Shield of Winter is set in Singh's rather complex world where humans, psys and changelings all co-exist. This installment is more deeply embedded in the psy world than the changelings as the psy's are dealing with the aftermath of the fall of Silence. Silence was a protocol or way of life that stripped the emotions away from all the psy's – making for a very cold existence. Since the fall of Silence a virus has been attacking the psy's and the psy's only hope is the empaths of their race. Shield of Winter focuses on how and if the virus can be combated.
Ivy is an empath. All her life she has felt that she was defective; she was never able to rid herself of emotions under Silence. As a result, her parents have done their best to hide her from the larger world. They had succeeded, but now Ivy's help is needed. Vasic, a deadly Arrow, has been sent to get Ivy's assistance and protect her from the psy community who's looking for a scapegoat in the chaos of daily life. While many feel that the empath's are the problem, it is soon clear that the empath's are the only one's that can circumvent the virus.
I was completely blown away by the world building in this one. I've always been aware of Singh's series; there's many that rave about it on Goodreads, but I didn't know how intricate her world would be. This society that she's created was so fascinating. Each of the races in the world have such different characteristics and customs, they were so interesting to learn about. The concept of living without emotion was intriguing and I loved that the author explored how these people have to now deal with what's it like to now be able to express them without fear of reprisal.
This newly discovered emotional state was what I found so interesting about the romance between Ivy and Vasic. Ivy was an empath, so she's always been more aware of her emotional state even if she thought it made her unnatural. At the same time, she's never been in a romantic relationship in the traditional sense; it's never something that's been allowed. Cold and sterile contracts sure, but a true relationship? It just wasn't on the table for Ivy (or anyone else). Likewise, Vasic is also a psy and has also never had the experience of being in a relationship. But unlike Ivy, Vasic has undergone severe training (or torture) as an Arrow. This training has seemingly stripped him of any ability to express emotions; however, with Ivy, he learns that it's possible to be more than just a soldier or killer. It was lovely to watch these two explore their new-found emotions. They certainly had their complications and uncertainties, but this added to the overall tension of the book and made for an excellent romance.
The only thing that I struggled with in Shield of Winter was the numerous other characters that were mentioned. Overall, I think Singh did a remarkable job at making this book accessible for someone new to the series, but I definitely felt that I was missing something. Readers spent time with several other couples from previous books, and I personally felt a little lost and impatient to read their stories. I also felt a little out of touch with what life for the psy's would have been like before the fall of Silence. I've very curious about this, so it's a good thing I've tracked down the previous books in the series! This one likely would have been a five star read had I read the other books in the series (as I will be doing as soon as possible).
Shield of Winter was an outstanding read and I'm so glad that I took a chance on this series. The world is fascinating and I can't wait to learn more, although I have a sneaky feeling that I'm going to be more interested in the psy world than I will be the changelings. I don't have a lot of books to compare it to, so I would love recommendations for other similar books.
Similar Reads:
The reason that I was recommended Nalini Singh in the first place was because I loved Anne Bishop's The Others series so much. So if you like Singh, give Written in Red a try, it's amazing. A naive young lady meets some scary werewolves and decides to become their friends.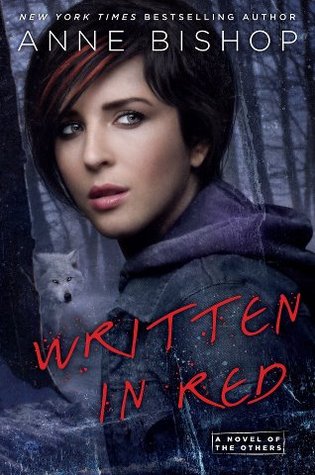 If you liked Vasic as a hero, you must check out Linnea Sinclair's Games of Command. Like Vasic, Kel-Paten is not supposed to experience emotions, but once he meets his heroine, he's left struggling to find a way to make it work. Games of Command is set in space, but fans of Shield of Winter will find some similarities in the world.
For a bit of a lighter read, give How to Lose an Extraterrestrial in 10 Days a shot. Reef is an alien that has been trained in much the same way as Vasic. How to Lose an Extraterrestrial is a much lighter read, but the characterization is rather similar. The romance is also pretty darn cute.