The Duke's Holiday by Maggie Fenton
May 7, 2014 (Historical Romance)*
My rating: I'd go there again (4/5)
Okay, historical romance fans, I have a book for you. The Duke's Holiday is an incredibly funny historical romance featuring a fabulously prudish and proper hero and a fabulously outrageous bluestocking heroine. Prepare to swoon! And laugh your head off. This one is perfect for Tessa Dare or Julia Quinn fans.
The Duke of Monford is a proper and fastidious duke. He properly does his duty to his estate. He properly engages himself to the proper duchess. And he properly investigates the Honeywell family that has been cozening him for a year. With the death of the head of the Honeywell family, the lands now revert back to Montford, a fact he relishes. This proper man is in for a rude awakening. And we, dear readers, are in for a treat.
When his man-of-affairs, Stevenage, ceases communication during his investigations at the Honeywell estate in Yorkshire, Montford has no choice but to venture into the wilds himself. This man's well-ordered world is about to be turned completely upside down.
Astrid Honeywell has been successfully hiding the death of her father for a year and continuing to manage the estate and famous brewery on her own. As her father had no son, the lands are no longer hers, but she'll be damned if her younger sisters and elderly aunt are left to their own devices. Of course, things are mightily complicated with the Duke's arrival. And Astrid is thrown for a loop with her attraction to this impossible man that alternatively dismisses and attracts her. What's a girl to do? Release the pig!
Point of fact, Astrid does not consciously use her pig against Montford, but it does contribute to a rather memorable first meeting between the romantic duo:
And as the pig passed by Montford, it decided to bash its hock against his legs, causing him to stumble backwards and land with a thwack in a puddle of mud that reached his navel.

Montford was too shocked to do anything other than sit there, staring around the stable yard and wondering if he had fallen into his worst nightmare.

Or the seventh circle of hell. (p. 53)
Little does the duke know this first mud-stained meeting is only the beginning…
Astrid is everything that the Duke avoids. She's independent and strong willed, but worst of all she's a complete mess:
There was something about this female, something he could not quite put his finger on, that was completely…well, wrong. Askew. Never mind she was dressed like a stable hand, or had hair the color of fire, or that her skin was riddled with freckles (belch!), or even that she was covered in mud. He felt the same impulse he had felt when confronted by that collection of enameled snuffboxes: the need to line something up before he screamed. (p. 52)
It seems impossible that the Duke and Astrid will ever resolve their animosity and personal differences to get to their happily ever after. But these two are thrown into one hilarious situation after another and slowly the Duke loses his stuffiness and comes to appreciate Astrid for the complex woman that she is.  Both Astrid and Montford compliment each other well. Astrid helps to loosen Montford up and Montford provides some stability. They each play off the others weaknesses becoming each others perfect match, which is just what I want and expect in a romance.
While the romance was lovely, what I truly adored about The Duke's Holiday was the ridiculous antics that the hero and heroine found themselves in on every page. Yes, it's not historically accurate, but I'm not looking for accuracy in a romance. This novel delivered the expected happily ever after with a unique sense of humour that I could do with more of in my historical romance reading. The Duke is continually getting himself in impossible situations because of Astrid. He runs a drunken footrace for her. Not your usual heroic fare, but entertaining nonetheless. And the Duke does get to show his heroic sides when he races to rescue Astrid from an unwanted betrothal. The question is will he succeed?
My only complaint would be that I would have loved to have seen Montford and Astrid in London. Astrid was such an unconventional lady, I would have really liked to see how she coped with life in the limelight of the ton. It would have been interesting to see whether Montford truly has changed from his time in Yorkshire and if he would still appreciate Astrid's uniqueness in a society that wants none of that. But, I am going to choose that the Duke has changed and that these two can have their happily ever after – they've certainly gone through enough trials to deserve it!
And if you're sufficiently intrigued about the book and would like to win an e-book copy, please visit The Book Adventures on Friday for a giveaway and a Q & A with the author, and a sneak-peak at the author's upcoming book, Thief of Hearts.
*Review copy provided by the author.
Similar Reads
While not quite as funny as The Duke's Holiday, Alyssa Everett's A Tryst with Trouble has a wonderful opposites-attract storyline. Both Ben and Barbara are convinced that they are each others worst match, which doesn't stop them from being caught in a compromising position.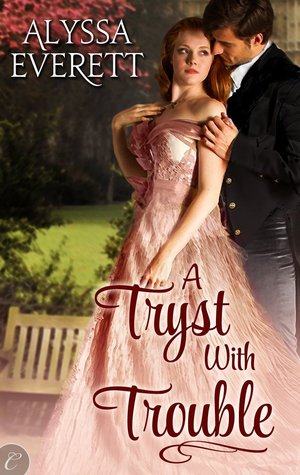 If you liked the battle-of-the-sexes theme here, give Connie Brockaway's My Dearest Enemy. Like Monford and Astrid, Lillian and Avery are at loggerheads over land, and each of them are determined to win despite the attraction they feel for one another.
Lastly, give Jayne Fresnia's upcoming Once Upon a Kiss a try if you like a proper and prudish hero; Darius Wainwright certainly fits the bill, and his leading lady, Justina, gives him a run for his money. I will say that Darius groveled quite a bit more than Montford. I could have used more groveling from Montford 😉