A Dangerous Madness by Michelle Diener (Regency London #3)
May 19, 2014 (Historical Mystery)*
My rating: I'd go there again  (3/5)
A Dangerous Madness is Diener's third book in her Regency London historical mystery series. I haven't read the previous two books in the series; however, I don't feel that it impacted my reading of A Dangerous Madness. There were some small references to previous books and the characters from them, but this one can be read as a stand-alone novel.
The Duke of Wittaker has recently stepped back at the ripe old age of twenty-seven (if I calculated correctly) from his career as a spy. At his father's urging, James ingratiated himself with a certain set of people in order to gain information to pass onto the government. As a result, James has a reputation as a rake and all-around disreputable guy. At the beginning of the novel, he's pulled back into the spy game when the Prime Minister, Spencer Perceval is assassinated in 1812, by John Bellingham.
Through the course of his investigation James runs into Miss Phoebe Hillier, a wealthy heiress that has just been abandoned by her unwanted fiancé. It seems that the fiancé may be involved in the assassination. Due to James rather tarnished reputation, Phoebe is reluctant to trust James and initially doesn't provide him with all the information that she has. All that changes when her life is threatened. Both James and Phoebe will need to trust and work with the other to find the truth behind Bellingham's motives for the assassination, and protect Phoebe's life.
I think the copy description of A Dangerous Madness is slightly misleading. The synopsis does make you think this is going to be your standard historical romance with an intrigue subplot. However, I argue that this is more of historical mystery than a romance. The mystery tackles a possible conspiracy behind the assassination of Spencer Perceval, attributing a much more sinister plot than one man's perceived injustice. Not knowing a whole lot of about this event; I felt that it was well plotted and believable. For me the mystery was well done, but it was quieter and less action-packed than I was expecting.
For me, what really stood out was the character of Phoebe. She was an interesting young woman and I really liked how she was portrayed. She was constrained by her status as a woman in society and I liked that this frustration was continually brought up. She was quietly fighting for her place in society, for her right to be an individual, for the right to independence:
Impotent rage, her old friend, ran a familiar hand down her back and she stiffened under its hot, prickly fingers. Why shouldn't she speak with someone? With whomever she pleased? She was twenty-four years old, responsible, intelligent. (p. 58)
This will not the first time Phoebe expresses a quiet rebellion and I thought this was very well done. She's not dumb, she's aware that she has had a life of privilege, but despite all that, she yearns for more:
She knew she was privileged. That she lived in surely one of the most beautiful houses in London, and had everything she could ask for. But she would give up much of what she had for some acknowledgement of herself. Of her worth. Of her capabilities. (p. 74).
Fortunately, Phoebe is able to get the acknowledgement of her worth when she starts working with James and starts to trust in his view of her. At first, she's shocked that he allows her to become involved and values her opinion, but she soon comes to trust in James' unique view of her self. While the romance was rather understated in A Dangerous Madness, I really liked this idea of each character trusting in the intelligence of the other. James and Phoebe were partners and treated each other as equally as possible. Ultimately, this was the strong point for me and what will make me go back to the previous two books in the series. I want to know if the author can do the same for other characters.
A Dangerous Madness was a quiet historical mystery and romance. It drew on true events and imagined the machinations that led to that one event. For me, it was a light read and I think it would be a good fit for fans of C.S. Harris's Sebastian St. Cyr series and my oft recommended Lady Darby series.
*Review copy provided via NetGalley.
Similar Reads
The Sebastian St. Cyr series is set in the same period as A Dangerous Madness. In fact, one of the books also features the assassination of Spencer Perceval. However, to truly appreciate the series, you must start from book one, What Angels Fear.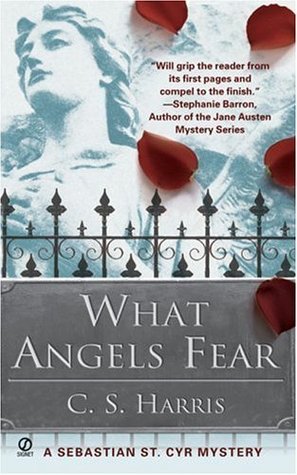 I recently read Amanda Quick's latest, Otherwise Engaged, and I think it will also appeal to fans of A Dangerous Madness. There's romance here, but there's also a significant intrigue plot. But what really brings a connection to mind is the relationship Amity and Benedict. Like Phoebe and James, they have a partnership of equals, although I do think Phoebe and James start with this right off the bat, and Amity and Benedict have to work for it.