The Devil's Workshop by Alex Grecian (The Murder Squad #3)
Putnam Adult, May 20, 2014 (Historical Mystery)*
My rating: I'd go there again! (4/5)
I'm not generally one for mysteries, but there's something about those set in a historical period that keeps me coming back for more. I discovered Alex Grecian a few years ago when I won book 1 of The Murder Squad series in a Goodreads giveaway, and I've been anxiously awaiting each installment since then.
The series is set in London following the Jack the Ripper murders and follows the changes to Scotland Yard after the horrific murders. Namely, the formation of the Murder Squad. Walter Day is one such inspector that forms the new Murder Squad and he's been changing the approach to investigation ever since. At this point in the series, with The Devil's Workshop readers are fairly familiar with Day and his team, including constable Hammersmith and Doctor Kingsley; however, the team is put sorely to the test in the latest installment.
Following the escape of four murderers from prison, Day and the rest of the Yard are sent to investigate and recapture the criminals before they can do any further damage. One of these criminals will be recognized from book one. However, it soon becomes clear to Day and company that there is more behind the apparent escape, and in fact, appears to be well planned out and has unleashed Jack the Ripper once again. This conspiracy threatens the lives of Day, his team, and those closest to him, and it seems that the team may not make it out of this investigation unscathed.
In my opinion, The Devil's Workshop is the best of the series so far. It was, by far, the most suspenseful of the series, as the violence hits closer to home for Day. I simply could not put this one down, which made for a rather groggy day at work the following morning. I did not know how this one was going to end, and I was worried that the characters that I'd come to love would be harmed irreparably, and really, some of them are. But to answer which ones, well that would spoil the book. Go forth and read!
As for the characters, this is really what has kept me reading the series. Yes, the mystery is great, but I love Walter Day and Nevil Hammersmith. They make such a great team and I love getting glimpses into their personal lives. The author has done such an excellent job at combining mystery with fully developed characters. And Grecian's a master at multiple points of view; this has added so much to these mysteries. While character development is slow (because of all the action and mystery) it's what keeps me coming back; I want to know more about each of them. I can't wait to see what happens next for the Murder Squad considering the ending of this book. Changes are afoot and I hope this team can stay together. Only reading the next book will determine this.
The Devil's Workshop was a fantastic read. If you like character-driven mysteries, this would be the perfect choice for you. And if you haven't read the first two books in the series, I urge you to start at the beginning. These atmospheric novels are fantastic and worth the time spent reading.
*Review copy provided by the publisher via Edelweiss.
Similar Reads
Stacey introduced me to the Sebastian St. Cyr series after I finished The Devil's Workshop, and there are some big similarities, although they aren't set in the same period. Like The Murder Squad books, C.S. Harris combines a great mystery with even better characters. Happily, there is also a dash of romance here (couldn't make me happier).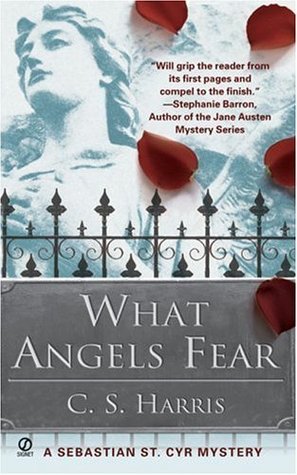 Yes, I'm going to throw out Lady Darby again. But, seriously, it's a great historical mystery series, so everyone needs to read it. I also find something similar about Lady Darby and Walter Day, they both seem so earnest and well, good. This is kind of a nice change of pace to the complicated anti-hero trope.
Lastly, I'm going to suggest The Hanover Square Affair. To be clear, I haven't actually read this one, but it sounds like another character driven mystery series. It came on my radar after I came across it for free on Amazon. And the hero seems to have that tortured thing going for him.